New Parents and a Newborn with Sickle Cell Disease: What Now?
Dr. Kevin Williams , Chief Medical Officer for Rare Disease at Pfizer | 6/22/2019, 8:12 a.m.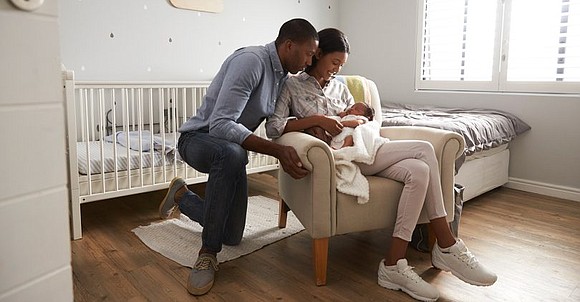 The "Ask Dr. Kevin" series is brought to you by Pfizer Rare Disease in collaboration with the National Newspaper Publishers Association (NNPA) to increase understanding of sickle cell disease.
Dr. Kevin Williams is the Chief Medical Officer for Rare Disease at Pfizer where he leads a Medical Affairs organization of approximately 150 medical colleagues around the globe. He pursued medicine after being inspired by his father's work as a general practitioner in his hometown of Baton Rouge, Louisiana. Dr. Kevin is passionate about raising awareness and increasing understanding of rare diseases, such as sickle cell disease, in the African American community.
For the last two years, I've been honored to talk with you about sickle cell disease (SCD) through this column, sharing important information and my perspectives as a medical professional. Now, as the "Ask Dr. Kevin" series enters its third year, I wanted to change things a bit by letting you also hear directly from those who matter most—people living with SCD and their caregivers.
In this article, I'd like to introduce you to TaLana Hughes, a mother of three who is also the executive director of the Sickle Cell Disease Association of Illinois (SCDAI). TaLana has one child with SCD and two children with the sickle cell trait.
As TaLana knows from both personal experience and through her work with SCDAI, learning that your child has SCD can feel overwhelming and scary. While family and friends can be an important source of support, they may not always know the best way to help—and parents may find it hard to explain what they need.
In order to help people better understand what it's like to be a parent of a newborn with SCD, and how family and friends can be most helpful, TaLana and I share our thoughts below on some of the most common questions we've been asked about the topic.
What are the biggest fears and challenges parents face upon learning their child has SCD?
TaLana:Immediately after my child received the diagnosis, my husband and I experienced an initial wave of shock and fear. It became suddenly apparent that both of us have the sickle cell trait which we passed down to our child. After the initial shock wore off, a million questions started to run through our minds, and we wondered what this would ultimately mean for our daughter.
Dr. Kevin: I know that for many parents, an SCD diagnosis can certainly be overwhelming, and I see how parents may fear the worst. However, it's important to know that in recent years we've seen advances in understanding and scientific breakthroughs that are potentially paving the way for better care of people with SCD.
I also can't stress enough to new parents the importance of setting up a healthcare team for their child as soon as possible. Receiving care early and often can help reduce the impacts and complications of the disease. SCD takes a toll on all systems of the body, so having a team made up of a pediatric hematologist, primary care doctor, and other specialists, such as an eye doctor, pulmonologist, cardiologist, and dentist, is key to the health of the child.