New Parents and a Newborn with Sickle Cell Disease: What Now?
Dr. Kevin Williams , Chief Medical Officer for Rare Disease at Pfizer | 6/22/2019, 8:12 a.m.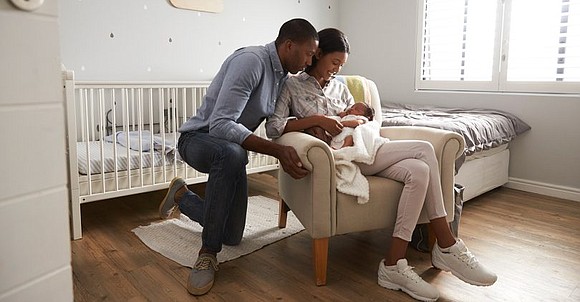 What are some tips for helping parents cope with the news?
TaLana:I know that I needed time to digest the news to really understand how the diagnosis would impact our child and family. Once I had a stronger understanding of the disease and how it would manifest over time as my child grew, I started to have a better idea of the support needed from my family and our local community.
Dr. Kevin: I've seen incredible connections and support systems form when parents of a child with SCD talk with other parents going through the same thing. There's a certain comfort that comes from talking to those who have "been there, done that." Parents can meet other families through local community groups, online platforms like oneSCDvoice*,which includes curated content and a wealth of information for those in the SCD community, and the Sickle Cell Disease Association of America(SCDAA), which publishes a calendar of local SCD events around the country.
How can family and friends offer support?
TaLana:I tell parents of children with SCD to educate their loved ones about the disease and to communicate how it affects your child. Teaching others about the condition gives me the opportunity to explain what kind of specific support I need. It also allows my family and friends to figure out how to best provide support—whether it be a ride to an appointment, a change of clothes for an overnight stay in the hospital, or help with small chores at home.
Dr. Kevin: I also encourage family members and friends to learn as much as they can on their own, because there are still a number of misperceptions about the disease. For example, the belief that a baby born with SCD will die before reaching adulthood. As I mentioned in a previous article, this is a myth! The majority of children with SCD live to adulthood, thanks to advances in SCD care. However, the life expectancy of someone with SCD in the US is only between 40 and 60 years, compared to average US life expectancy of 78.8 years.By understanding the truths about SCD, family and friends are in a better position to provide meaningful support and be allies.
What tools are most helpful for new parents caring for their child with SCD?
TaLana:I always carry a notebook with me so I can take notes and keep track of my child's "baseline" and SCD history to see how the disease manifests over time. I have an overnight bag in my trunk that includes a change of clothes and snacks. I carry a thermometer in my purse to take my child's temperature and an incentive spirometer to help facilitate stronger breathing. I've also joined a group chat with other parents who have children with SCD, and this has been one of my most important tools for connecting with and learning from other parents who share this experience.
Dr. Kevin: These are great suggestions. I would also encourage parents to connect with their local SCD organization, like an SCDAA local chapter. With a disease like SCD, which is rare in the US and often misunderstood, connecting with others who have similar experiences and challenges is so important for building your support system.