John Shaft lives inside the AmNews—can you dig it?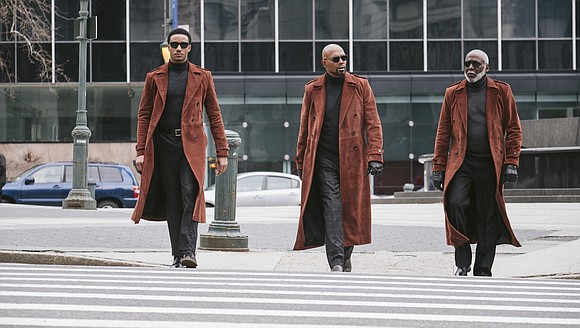 It's 2019 and John Shaft has taken up residence inside the historic building that's owned by the New York Amsterdam News—can you dig it?
The 1970s hard-as-nails cop-turned-enforcer is back seeking justice his way. Fast forward. The times are changing (again) and the generational differences in the Shaft family tree are apparent, but for John Shaft (Samuel L. Jackson) that's no reason to lose any sleep. He's never been anyone but Shaft (can you dig it?) and in this reboot of a reboot, he brings the '70s fire and that bravado and irreverence that still carry a mighty punch.
To date, there have been five Shaft movies spread over nearly a half-century, in addition to a (failed) TV series, and that longevity is due to the power of the character that Richard Roundtree created so long ago. Isaac Hayes, who performed the theme song from "Shaft" at the 1972 Academy Awards and took home an Oscar, in no short measure helped to shape the character as well. The words to his song made it clear what Shaft was about from the very start, describing him as "the private dick that's a sex machine to all the chicks," lyrics that made many people blush then and now and a conversation starter (then and now) on how Black men are perceived. Still, there is something about a Black man in charge (so to speak) that brings the audiences back and, in this new installment, we have three Shaft men from three generations hitting the streets to dish out justice with
brutal effectiveness.
The screenplay, written by the prolific television writer Kenya Barris ("Black-ish") and Alex Barnow ("The Goldbergs"), created alchemy with a perfect balance between old and new social attitudes. They hit the proverbial bull's-eye that allows the old characters to be themselves (to let loose) and deliver such witty trash talk that you just want to close your eyes and listen to the "fast-as-a-bullet" banter.
Spoiler alert is forthcoming. Actor Richard Roundtree—the original John Shaft who made the 1971 film such a hit—is back. He breathed such life into that character that two sequels followed along with a short-lived TV show (that Roundtree says is "too painful to think about"). Then Jackson teamed with the late John Singleton in 2000 and brought the character back to the big screen and now, under director Tim Story, we find three Shaft men back in action.
We begin with Shaft's son, recent, wide-eyed MIT grad John Jr., or J.J. (Jessie T. Usher), who works for the FBI, and whose view of women and the culture makes him more mindful of the words that come out of his mouth.
The father (old school) and son (new school) dynamic and dialogue stem from culture clash (more like a comedic sonic boom) especially on the subject of women (kind vs. inconsiderate) and law enforcement (legal vs. not-so-legal). This modern odd-couple vibe is what makes this version of "Shaft" special. It allows the filmmakers to have it both ways, highlighting the vulgarity, adding nudity and violence (R-rated) while never missing a beat in including the modern views of a younger generation offering the old guys new options, and suggesting it's never too late for an old dog to learn new tricks.