John Shaft lives inside the AmNews—can you dig it?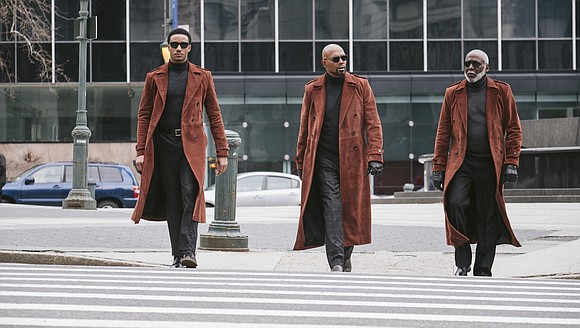 J.J. is just getting to know Shaft, since father and son were separated by his mother in an effort to keep her son far away from the violent side of Shaft's life. They are drawn together on a tricky murder case that may involve a New York mosque as well as a new charity called Brothers Helping Brothers.
J.J.'s mother Maya (Regina Hall, exceptional) was the love of Shaft's life but left him to help her son grow up, safe, so the news that her son has finally met his father is not exactly welcome. Now working for the by-the-book FBI, J.J. doesn't approve of his father's wild style of justice, and even shies away from guns.

The screenplay shines in the dialogue (superlative) but the plot is weak (yawn) and typical (double yawn), and some of the B characters could have been left out completely, but I return to the power of the dialogue because it's just so good that you forgive those tiny issues. Example: we know that John Shaft tosses up the n-word like confetti, but in this version J.J. lays his feelings on the table, saying, "Don't use the n-word."
As father and son get to know each other they begin to appreciate one another, and the big shoot-out near the top of a very tall high-rise is satisfying.
Seventy years young (Black don't crack, wink), Jackson is perfect (per usual) delivering his lines like no other. Roundtree (76) enters the fun in act three making the perfect complement with Usher (26) representing the youngest iteration of Shaft—and the legend continues.