Paul Williams: Architect to Stars and St. Jude
Thomas Charlier | 3/6/2019, 12:52 a.m.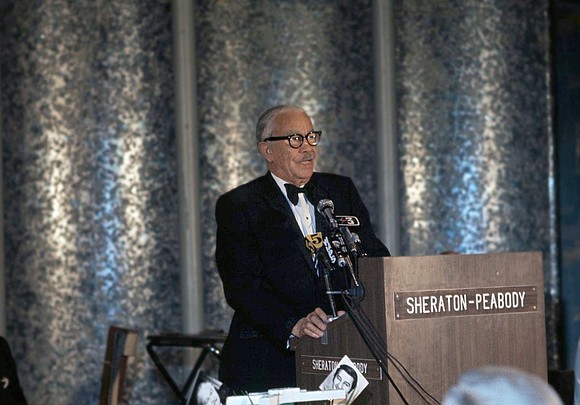 He styled a Mid-Century Modern bachelor's abode for Frank Sinatra that enthralled a national audience during a televised tour. For Lucille Ball and Desi Arnaz, he designed a Palm Springs weekend home that epitomized sleek, glass-walled elegance.
But Paul Revere Williams had something simpler, more functional in mind when he drew up plans for the original St. Jude Children's Research Hospital.
For this project, the so-called architect to the stars sketched a star.
With five wings radiating like spokes from a central hub, the first St. Jude building served thousands of patients during the hospital's formative period. It accommodated groundbreaking research that produced the first major advances in treating leukemia and other previously incurable childhood diseases.
That star-shaped hospital, to be sure, lacked the grandeur and renown of other designs by the architect. However, noting the vital, life-saving work conducted within St. Jude's walls, Williams would later call the project the most satisfying of his highly acclaimed career.
The satisfaction was nothing if not reciprocal. Among all the contributions that transformed St. Jude from a quixotic dream into concrete-and-steel reality, few were as significant as the one made by the brilliant, yet humble African-American architect who donated his services to help his friend and St. Jude founder Danny Thomas get the hospital built.
He may have been born in California and devoted most of his career to projects along the West Coast, but Williams' ties to Memphis ran deep. His parents hailed from the city, where his father served as a waiter at the old Peabody Hotel.
The humid Memphis climate proved less than accommodating, however. Both parents contracted tuberculosis and fled, along with their eldest son, to the drier, sunnier weather of Los Angeles in 1893, a year before Paul's birth.
Good fortune did not accompany them. Paul's parents were both dead from the illness before he turned 4, leaving him and his brother orphans to be sent to separate foster homes.

Williams nonetheless thrived amid the multi-ethnic environment of Southern California and the guidance of a foster mother who valued education and supported his interests. "She encouraged anything he did," says Williams' granddaughter, Karen E. Hudson, who has studied the architect's notes and written books about him.
In the early 1920s, after studying architecture in art schools and college and then working for others in the profession, Williams opened his own office and became the first African-American member of the American Institute of Architects.
Over the next half-century, Williams' high-profile commercial and government projects, as well as his designs for residential clients that included movie stars and business and entertainment moguls "sort of shaped the collective memory of a region within our country," said Daisy-O'Lice Williams, an associate professor of architecture at the University of Oregon who is not related to Paul.
The architect was able to transcend racial barriers that forced him to accept lower fees than his white counterparts and then build an unusually successful and long-lived practice. "He was a shrewd businessman. He knew how to read clients," Williams said.