New Betty Carter album arrives 27 years after original performance
JORDANNAH ELIZABETH | 3/7/2019, 4:29 p.m.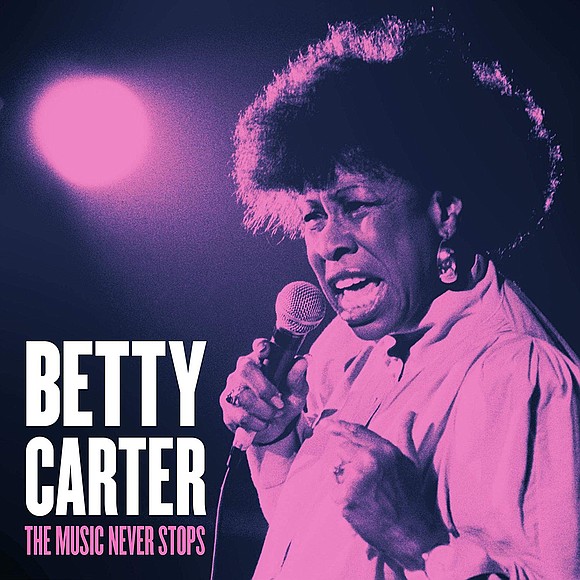 Blue Engine Records, Jazz at Lincoln Center's exclusive record label founded in 2015, will be releasing a 1992 performance by jazz composer, singer and general force of nature Betty Carter March 29. The label releases archived recorded performances from Jazz at Lincoln Center dating back from 1987 in conjunction with R. Theodore Ammon Archives and Music Library and JLC's managing and artistic director, Wynton Marsalis. According to Wynton Marsalis.org, these recordings are being released "with a vision to build a comprehensive library of iconic and wide-ranging compositions that, taken together, make up a canon of music."
NPR Music reported that at "...61, when she took the stage at Aaron Davis Hall in New York for 'The Music Never Stops' March 29, 1992...it was a concert of grand, unabashed ambition, celebrating Carter's magnificent prowess in the context of a specially assembled big band with strings, as well as three all-star rhythm sections."
The album is named after the performance, "The Music Never Stops," where Carter's orchestra included Robin Eubanks, Art Baron, Jerry Dodgion, Alex Foster and Lew Soloff, pianists John Hicks, Geri Allen and Cyrus Chestnut, bassists Lisle Atkinson and Ariel Roland, and drummers Kenny Washington, Greg Hutchinson and Clarence Penn.
In an archived live music review from The New York Times in 1992, critic Stephen Holden writes, "During the intermission-less 90-minute event, the singer and her musicians attempted to keep the music continuous, right down to Ms. Carter's singing the introductions and segues to most of the selections. Although she did pause once or twice to make remarks, the music was for the most part unbroken. The idea of musical continuity gave the evening a natural sense of thematic ebb and flow, with songs about goodbyes forming an expressive nucleus.
"One reason Ms. Carter, who is 61 years old, is probably better equipped than any other leading jazz singer of her generation to improvise with a big band is that her phrasing and intonation are so purely instrumental in sound. Nobody shapes a note the way she does, slowly turning it from a rich hornlike timbre into something bitingly twangy, then softening it again."
This album is an essential album to own for avid Betty Carter fans and for new listeners who want to expand their knowledge of women in jazz.
"The Music Never Stops" track listing:
"Ms. B.C."
Written by Pamela Watson
Arranged by Bobby Watson
Personnel: The Big Band*
Soloists: Alex Foster (tenor saxophone), Kamau Adilifu (trumpet)
"Make It Last"
Written by Dick Haymes
Arranged by Melba Liston
Personnel: Betty Carter (vocals), The Big Band*, The Strings
"30 Years"
Written by Betty Carter
Personnel: Betty Carter (vocals), Cyrus Chestnut (piano), Ariel Roland (bass), Greg Hutchinson (drums)
"Why Him? / Where or When / What's New? / Why Him?"
Written by Burton Lane & Alan
Jay Lerner
Personnel: Betty Carter (vocals), Cyrus Chestnut (piano), Ariel Roland (bass), Greg Hutchinson (drums)
"Where or When"
Written by Lorenz Hart & Richard Rodgers
Personnel: Betty Carter (vocals), Cyrus Chestnut (piano), Ariel Roland (bass), Greg Hutchinson (drums)