NYCHA $LASH: Activist meeting with Trump yields no dividends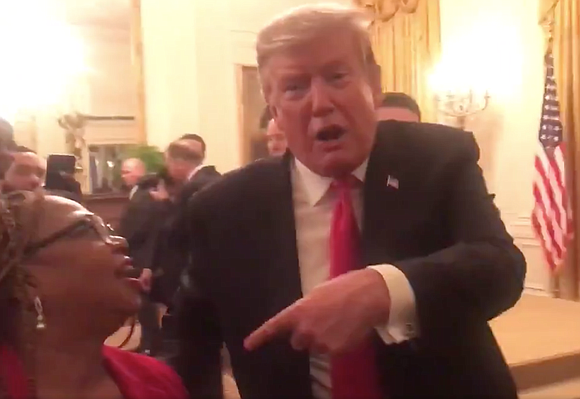 Frederick Douglass Houses Tenant Association President Carmen Quiñones met with President Donald Trump, First Lady Melania Trump and Vice President Mike Pence in February. Topics of the discussion included the horrendous conditions she and other tenants are facing in public housing and the urgency for help.
"I spent 20 minutes with the vice president and told him, 'What do we have to do to get this done,'" Quiñones said during a recent interview. "The president was very adamant about helping and the First Lady promised she would come meet with the parents and children about the lead."
However, fast forward one month later, and it appears Quiñones may have buyer's remorse and isn't too pleased about the recent news over Trump's proposed cuts to public housing nationally that could see increased rents for New York City Housing Authority residents and the elimination of capital funding.
"I think it's awful, and we have so much work to do," she said. "I know he's adamant about the wall, but they have to see what's really important: the lives of the people that live here and not the lives of the people who want to come here."
Trump's proposed $4.7 trillion 2020 budget would give nearly nothing to public housing to free up funds for the $8.6 billion he wants for his campaign-promised wall at the southern border. The public housing operating fund could be slashed by 37 percent.
Fears among people living in the nation's largest public housing system appear to be coming true as the federal government inches its way into New York City Housing Authority. While rumors range from the feds putting money into fixing NYCHA, possible privatization and/or a full-blown shutdown, shelling out more for rent is a topic of discussion.
According to the 35-page budget brief released by the U.S Department of Housing and Urban Development Secretary Ben Carson, public housing would see a 16.4 percent cut in funding and increased rent for those able to work. NYCHA would not see any money from the federal government for long overdue repairs. The budget has to be passed by Congress to be official.
"In addition, the budget proposes uniform work requirements for work-able households. Consistent with administration policy, the requirement would allow for work-seeking activities and would exempt the elderly, the disabled, those caring for a disabled family member or small child, and pregnant women," the brief outlines.
The President's 2020 budget allocates $44.1 billion to HUD. Carson said the budget encourages public housing residents to get jobs and eventually leave the system. Carson said HUD wants to connect public housing residents with higher paying jobs and financial and educational opportunities.
He stated, "This budget allows HUD to focus on a more holistic approach to bring together the public sector, private sector and nonprofit community. These partnerships are key to developing the skills and talents of our residents—with the goal of promoting family self-sufficiency and a life beyond public assistance."
As HUD administrator for New York and New Jersey, Lynne Patton goes into her fourth week of living in various NYCHA developments. She lauded Trump's 52 percent increase to public housing last year. The increase happened after congressional members didn't approve initial cuts to public housing. Patton has been living in NYCHA over the past month to better understand the issues facing residents.