FORTUNE, LADY GOT CHOPS, CARNEGIE, SANABRIA AT WBGO, O'NEAL BLAZES
Ron Scott | 3/21/2019, midnight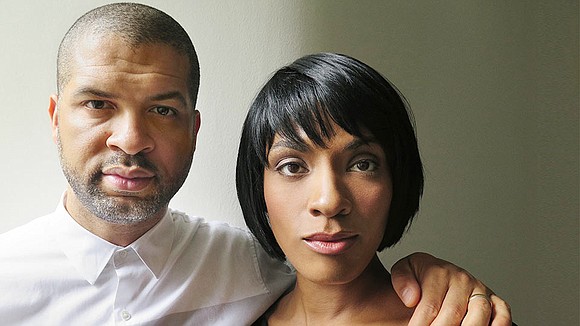 On March 30 at 8 p.m. at Stern Auditorium in Carnegie Hall, Jason Moran and Alicia Hall Moran will connect the dots of Black music through their show "Two Wings: The Music of Black America in Migration" by exploring a continuum of music from R&B to gospel, classical to Broadway, work songs to rock 'n' roll, as well as drawing on their own family lore and others' stories.
Alicia Moran, a noted mezzo-soprano is known for her blend of classical music and soul while pianist and composer Jason is known for consistently blurring the lines of jazz out and in.
On April 13 the festival features the vocalist Deva Mahal, the daughter of legendary bluesman Taj Mahal in Carnegie Hall's Zankel Hall at 10 p.m.
"When you are bullied and treated like you don't belong, or faced with great adversity at a young age," says Deva. "You learn ways to cope. Music gave me an outlet to express the pain of those experiences and the strength to challenge racial, physical and gender stereotypes."
For tickets visit carnegiehall.org/events.
On March 21 in celebration of Women's History Month music and arts Lady Got Chops will present its international gala "Global Harmony: A Woman's Perspective" concert and panel at Flushing Town Hall (137-35 Northern Blvd. in Flushing, Queens) at 7:30 p.m.
Some of the musicians to be featured by this nonprofit organization founded by bassist Kim Clarke will include: vocalists Vanessa Rubin and Lucy Bianco, pianists Bertha Hope and Yavoi Ikawa, trumpeter Edwina Thorne, percussionist Annette Aguilar, storyteller Matoaka Little Eagle-storyteller, and the emcee Kim Weston-Moran.
Tickets are $16 general admission visit the website Ladygotchops.com.
Awilda Rivera the popular personality at WBGO-FM jazz radio recently retired from her long-running show Latin Jazz Cruise. The seven-time Grammy nominated percussionist, composer, big bandleader and jazz activist Bobby Sanabria has just recently replaced Rivera—he can be heard Fridays 9 p.m.—11 p.m.

He has composed music for the documentary films "From Mambo to Hip Hop: A South Bronx Tale" (2007) and "Some Girls" (2017). Sanabria has performed and recorded three CD's (two of which were Grammy nominated) with the acknowledged creator of Afro-Cuban jazz Mario Bauzá, as well as a prestigious list of musicians too many to list here, but some include Dizzy Gillespie, Tito Puente, Mongo Santamaría (with whom he started his career), Paquito D'Rivera, Candido, Ray Barretto, Charles Tolliver, Henry Threadgill, Larry Harlow and Celia Cruz.
"I'm honored and privileged that WBGO asked me to be the new host of the Latin Jazz Cruise. Awilda is a legend in jazz radio and as its host she has mightily been our advocate for the last 26 years. What she and the previous two hosts, Alfredo Cruz and Chico Mendoza have done is set a standard that I hope to equal but never can be surpassed," said Sanabria. "People have asked me what the future of jazz is and I've always stated that it's in Latin America where for the last 40 years jazz has been fervently studied by a new generation of players. I'll be exposing the fruition of that movement on the show."
The pianist and singer Johnny O'Neal received standing ovations and loud whistles during his sold-out three-day engagement at Dizzy's Club Coca Cola celebrating Nat King Cole's centennial (his birthday was March 17). O'Neal and his trio—guitarist Ilya Lushtak, bassist Mark Lewandowski and drummer Itay Morchi—dressed in tuxedos for the big celebration which took off with "Baby Won't You Please Come Home," to Stevie Wonder's "Overjoyed" and Cole's classics "Straighten Up and Fly Right" and "Unforgettable" included his guest vocalist Daralyn Jay.
O'Neal is the consummate performer with humor and saloon style that holds you in the groove and scats that have a swinging kick. His phrasing and timing is undeniable, his touch is uniquely intuitive by far one of the best pianists of our time. He is that go-to pianist/singer who has played every late-night session from Smoke Jazz & Supper club on the Upper Westside to Small's in the West Village. He is a crowd pleaser who rates top bookings and festival gigs.