Mary B. Talbert, women's rights advocate and clubwoman
Herb Boyd | 3/21/2019, midnight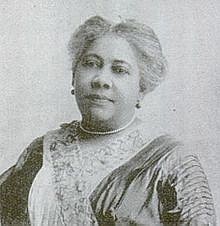 Well, Imhotep Gary Byrd, I have a most prestigious Black woman with roots in Buffalo, N.Y., that many Americans may not know much about but who provides an important link from the late 19th to the early 20th century, particularly within the realm of social and political activism.
If geography is fate, then Mary Burnett, born Sept. 18, 1866, in Oberlin, Ohio, was blessed with activist impulses from the very start of life, given the city's history of anti-slavery and abolitionist movements. Burnett received a full dose of the community's heritage as a graduate of the city's high school and college where she earned a literary degree at age 19 in 1886.
When a teaching position was offered at Bethel University in Little Rock, Ark., she accepted and this placed her in a prime position to begin her fight against Jim Crow and segregation. She was only a year in town before becoming the first African-American woman to be an assistant principal of Little Rock High School. Four years later she married William Talbert, an affluent businessman from Buffalo.
It wasn't too long after that she resigned her position in Little Rock and moved with her husband to Buffalo, where a year later she gave birth to their only child, Sarah May Talbert.
As she had done in Little Rock, Burnett immediately established herself in leadership roles in both civic and public affairs. She was a founding member of the Phyllis Wheatley Club of Colored Women, Buffalo's first affiliate of the National Association of Colored Women, in 1899. When W.E.B Du Bois began organizing the Niagara Movement, Burnett's house and dining room table were the host of the organization's first meeting. Thus, she was one of the few women at the very inception of the Movement that later evolved into the NAACP, where she was again among the female forerunners.
In 1916, Burnett was elected the sixth president of NACW and the vice president of the NAACP. A year later she became one of the first Black Red Cross nurses to serve on the Western Front of Europe after the U.S. entered World War I. Like many African-Americans who experienced Europe during the war, she returned there and continued her commitment in raising the importance of race relations and women's rights, a veritable unflagging suffragette.
At this time, one of the pressing social issues was the brutal wave of lynching in America, so much so that in 1919 Missouri Rep. Leonidas Dyer introduced an anti-lynching bill. Naturally Burnett was among the leading proponents helping to give the bill the needed traction.
Two years later, along with her unwavering commitment to supporting the Dyer bill, Burnett ventured abroad to the Fifth Congress of the International Council of Women held in Christiana, Norway. She was the first African-American delegate and noted in her address that "the greatness of nations is shown by their strict regard for human rights, rigid enforcement of the law without bias, and just administration of the affairs of life."