Mary B. Talbert, women's rights advocate and clubwoman
Herb Boyd | 3/21/2019, midnight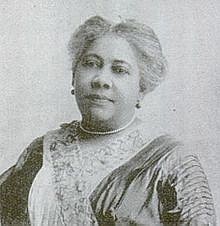 In 1922, Burnett became the first African-American woman to win the NAACP's Spingarn Medal, emblematic of her undying dedication to civil and human rights. She was a prime mover in the founding of the Anti-lynching Crusaders, which would spearhead the effort of the NAACP to enlist a million women to raise $1 million.
"Within three months," wrote Paula Giddings in her book "When and Where I Enter," "the Crusaders grew in number from sixteen volunteers to 900. They assigned directors in each state, and appointed 'key' women in towns and cities to act as coordinators. Among those the Crusaders attempted to proselytize were white women." Giddings quoted Burnett on the Crusaders' attempt to bring white women into the initiative. "This is the first time in the history of colored women that they have turned to their sister white organizations and asked for moral and financial support," Burnett asserted.
"We have never failed you in any cause that has come us," Burnett continued, "and we do not believe you will fail us now." In response to her plea, Giddings wrote, "About 900 white women reformers did lend their names to the cause, but Black women would soon see that their 'sister' organizations could only go so far and no farther. Little substantive support ever materialized for it from white female reformers."
As president of the NACW Burnett was instrumental in the purchase and restoration of the Frederick Douglass home in Anacostia, Md. Consequently, she was elected the president for life of the Frederick Douglass Memorial and Historical Association. Again Giddings is observant on this issue, noting the significant role of the NACW and its president in rescuing the landmark. "We realize today is the psychological moment for us women to show our true worth and prove that Negro women of today measure up to those sainted women of our race, who passed through the fire of slavery and its galling remembrance."
This announcement bore the earmarks of the woman who made them. Mary Burnett Talbert died in Buffalo Oct. 15, 1923, at the age of 57.