Big Apple Bruising: Trump's budget will devastate New Yorkers
By CYRIL JOSH BARKER Amsterdam News Staff, Additional reporting by NAYABA ARINDE Amsterdam News Editor | 3/21/2019, midnight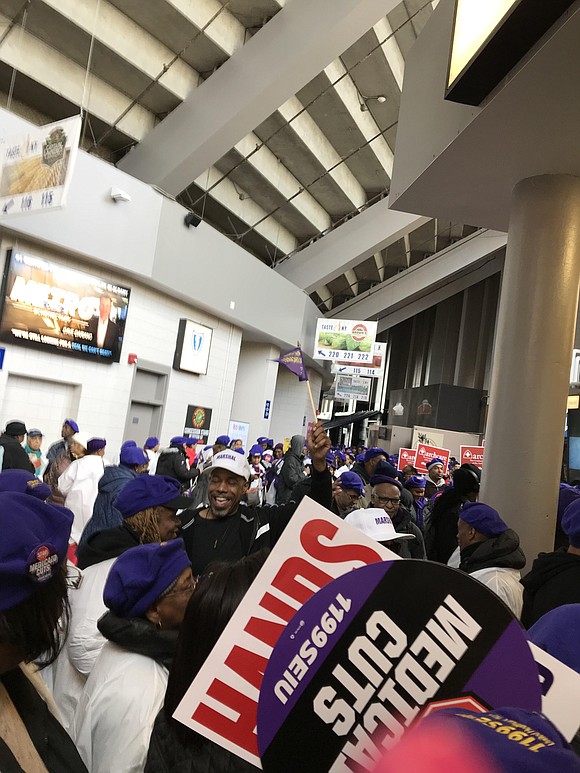 "The president continually attacks New York State, our residents and our values," said State Senate Majority Leader's Andrea Stewart-Cousins. "The proposed cuts to essential government programs like health care, tuition assistance, and SNAP would have devastating impacts for millions of struggling New Yorkers."
Funding for Medicaid, SNAP and even education are on the chopping block and New Yorkers could feel the brunt of President Donald Trump's proposed FY20 budget. These draconian proposals have politicos and activists alike responding with outrage and action.
"Trump hopes to keep his campaign promise and is asking for $8.7 billion to fund his wall on the southern border to deal with the 'immigration crisis,'" Congressman Hakeem Jeffries said. "Trump introduced his budget this week. He proposed approximately $2 trillion in cuts to Medicare, Medicaid and Social Security. They want to inflict cruel and unusual punishment on everyday Americans."
Gov. Andrew Cuomo is one of several Democrats standing on the front line to block the $4.7 trillion budget, which has already caused shockwaves over slashing 37 percent to the public housing operating fund.
Last week Cuomo announced that the Division of the Budget has conducted a preliminary analysis outlining the impact the budget would have on the Empire State. Highlights include cutting $4.3 billion in health care funding for New York in the first year alone leading to a 20 percent reduction in federal health care funding.
The governor said that cuts could jeopardize safety net hospitals and put the health care coverage of hundreds of thousands of New Yorkers at risk.
"The president's budget is another devastating assault on New York and our values that threatens to unravel the progress we have made ensuring fiscal responsibility, strengthening health care and delivering for New Yorkers," Cuomo said. "While some people say this budget is just a marker to open negotiations, after the Trump administration passed the SALT cap that specifically targets New York, we take it as seriously as a heart attack."
Cuomo added that he plans to do everything in his power, working with the state congressional delegation, to prevent what he calls the "draconian cuts."
"President Trump's budget for fiscal year 2020 is deeply troubling and makes it abundantly clear he isn't serious about addressing the needs of the African-American community," said Congressional Black Caucus Chair Representative Karen Bass. "If we didn't already know what African-Americans stood to lose under a Trump presidency, this budget makes it abundantly clear."
Breaking it down, New York State could see $4.3 billion in cuts in federal funding for Medicaid and Essential Plan, growing to $10.2 billion in 2021 and $11.2 billion in 2022. The Federal cap on Medicaid will grow to $65 billion by 2026.
"President Trump's budget makes it clear that Washington is no longer working on behalf of everyday Americans like the people I represent," said State Sen. Brian Benjamin. "He is proposing cuts to healthcare, education funding, and housing that would affect the most vulnerable among us, and which would impact institutions near and dear to my community, like Harlem Hospital, while his allies are being given tax breaks and corporate welfare."