UNCF raises more than $500,000 at 75th anniversary gala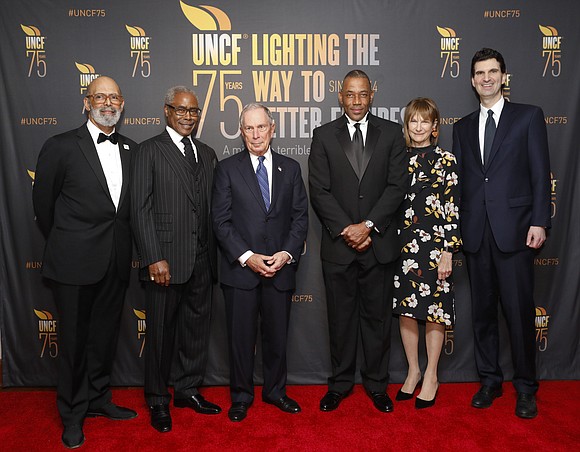 UNCF (United Negro College Fund) recently celebrated its 75th anniversary. The March 21 event honoring supportive New York corporations and philanthropists, including longtime UNCF advocate and education changemaker former Mayor Michael R. Bloomberg, raised more than a half a million dollars to invest in UNCF's historically black colleges and universities (HBCUs) and the deserving students that attend them.
Edward Lewis, co-founder of Essence magazine, served as honorary co-chair, during which Bloomberg accepted the UNCF Lifetime Achievement Award for being a long-time advocate of UNCF. The UNCF Shirley Chisholm Award was presented to CUNY Trustee Dr. Una S.T. Clarke by her daughter, U.S. Rep Yvette Clark (D-NY). For its continuous support over the years, Delta Air Lines was honored with the UNCF Corporate Partner Award.
"There are millions of Americans who, over 75 years, have invested in UNCF and better futures for our students, and through that success, for all of us," said Dr. Michael L. Lomax, president and CEO of UNCF. "Tonight, we raised the resources our HBCUs need to do their invaluable work. Tonight, we fund scholarships that narrow the gap between college costs and family resources. And together, we change the narrative of our HBCUs, which help strengthen and elevate a new generation of young, black and gifted students."
More than 350 people attended the celebration, including state Sen. Kevin Parker (D-NY); Councilman Robert Cornegy, Jr. (New York City); and HBCU Jackson State alumnus Demarco Morgan, CBS correspondent. Major event sponsors were Delta Air Lines and Citi. Grammy® Award-winning artist Christopher Jackson finished the evening with a rendition of Nina Simone's "To be Young, Gifted and Black."