New SHSAT results show low admission numbers of Black/Brown students
STEPHON JOHNSON Amsterdam News Staff Additional reporting By NAYABA ARINDE Amsterdam News Editor | 3/28/2019, midnight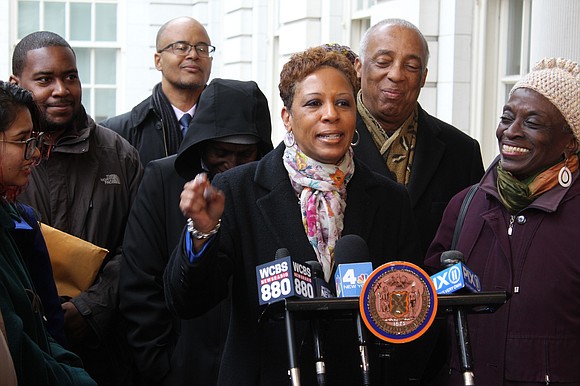 New York City's specialized high schools are at the center of another debate.
Earlier this month, the results of the latest specialized high school exam were made public, and out of the 895 students accepted into Stuyvesant High School only seven were Black. That's less than 1 percent of the incoming freshman class. Black and Latino students make up 70 percent of New York City's public school system, but only 10 percent of those who are admitted into the eight designated specialized high schools.
Of the eight specialized high schools, the admissions policy of five of the schools (Brooklyn Latin, the High School for Math, Science, and Engineering at City College, the High School for America Studies at Lehman College, the Queens High School for the Sciences at York College and Staten Island Tech) can be set by the mayor. But Mayor Bill de Blasio told WNYC Radio's Brian Lehrer that he wants to change all eight schools' policies universally out of fear of creating a second tier among the elite schools.
"There are other legal issues that make us feel like a single legislative fix is the best and most effective, most lasting, unchallengeable way to get this done once and for all," said de Blasio.
When asked if he'd spoken to New York State Assembly Speaker Carl Heastie about changing the SHSAT, de Blasio said he has resigned himself to the issue not being resolved in the immediate future.
"Only discussion we had was an acknowledgement that that's not going to be addressed in the budget," said de Blasio during a press briefing. "That there will be a very—he said there will be hearings, there will be a vibrant discussion on that issue. We are going to work with everyone constructively to find something that the Legislature can agree on but I would bet a lot of money that that doesn't get resolved until the end of June."
"First and foremost, I don't support any specialized elitist school," said Assemblyman Charles Barron. "All of our children are special and all of our schools should be treated like specialized high schools with the resources. To have this test that only gets 10 percent of Black and Brown students in is unconscionable, unacceptable and absurd. Our children are smart enough to ace Stuyvesant. Don't tell me there are only seven Black students worthy."
As he finalizes the date for a public meeting about this very issue, the ofttimes uncompromising elected official added, "Most of the students that get into specialized high schools go to cram schools that teach the test. My bill, A.2173, says what the chancellor and the mayor say: 7 percent of the top students from each middle school should be accepted into the specialized high school."
But, for certain people, any plan to eliminate the exam was dead on arrival. When the AmNews contacted New York State Sen. and Bronx Science alum John Liu about his rejection of de Blasio's plan to fix the admissions process, his spokesperson said all communities needed to be included, not just Black and Hispanic ones.