Citywide New York African Film Fest returns May 23-June 9
LAPACAZO SANDOVAL and ART SHRIAN | 5/16/2019, 4:23 p.m.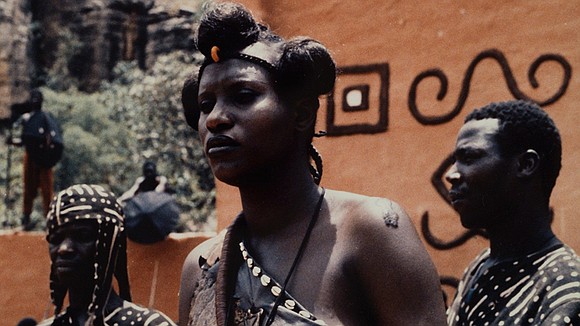 The storytellers from Mother Africa are back—May 23 through June 9—at the annual citywide New York African Film Festival (NYAFF). This festival has been growing in size each and every year and is marking its 26th edition to center audiences. Again the festival will proudly present cutting-edge films from throughout the ages, films that regale with resplendent tales of all things African.
This year the theme is "Beyond Borders: Storytelling Across Time," and the festival will
launch at the Brooklyn Academy of Music's BAMcinématek (in May); it then heads to
Film at Lincoln Center (FLC) from May 30 through June 4, and closes at Maysles Cinema in Harlem. All in all there will be 68 films of multiple genres from 31 countries across the diaspora, and is presented by FLC and African Film Festival, Inc. (AFF).
"These films help us to celebrate our vibrant cultures, as well as confront the issues that affect our societies," said AFF Executive Director and NYAFF Founder Mahen Bonetti. "The stories challenge us to continue thinking about ways to improve our situation and build for the future and that is the magic and power of the cinema."
Opening Night at Film at Lincoln Center at 6:30 p.m. on Thursday, May 30, is the U.S. premiere of Frances-Anne Solomon's triumphant feature "HERO: Inspired by the Extraordinary Life and Times of Mr. Ulric Cross." The film, which won the Trinidad and Tobago Film Festival People's Choice Award in the narrative feature category, tells the story of Cross, the Royal Air Force's most decorated West Indian of World War II, and his fellow West Indians' lasting impact on world history, including several liberation struggles across Africa. The film was selected as part of NYAFF's celebration of the 100th anniversary of the first Pan-African Congress, organized in Paris by W.E.B. Du Bois and Ida Gibbs Hunt in February 1919, when delegates from Africa and the diaspora convened to champion Africa's self-determination.
Tickets for the film and Opening Night post-screening reception are available online at africanfilmny.org for $100. Regular festival prices apply for screening-only tickets, which can be purchased at filmlinc.org.
Marking the 25th anniversary of the tragic Rwandan genocide of 1994, when between 800,000 and 1 million lives were lost, at 5:45 p.m. on Saturday, June 1, is the Centerpiece film, Rwandan director Joël Karekezi's gripping drama "The Mercy of the Jungle." One of a crop of films about the aftermath of the tragedy by Rwandan directors, it follows Rwandan soldiers hunting rebels separated from their unit as they fight to survive while lost in the war-torn countryside. Preceding "The Mercy of the Jungle" will be the short "The Letter Carrier," a haunting, folkloric fairy tale told through original acapella song. The directorial debut of actor-directors Jesse L. Martin and Rick Cosnett imagines a Black family from Virginia's Blue Ridge Mountains and the lengths they will go to save themselves from slavery.
In its look back, NYAFF also tips its hat to FESPACO (Panafrican Film and Television Festival of Ouagadougou), the historic festival in Burkina Faso now celebrating its 50th anniversary, with classic works from African trailblazers who continue to influence generations of filmmakers. Among the selections are the first FESPACO Best Film winner (Oumarou Ganda's "Le Wazzou Polygame" in 1972), most recent awardee (Karekezi's gripping drama "The Mercy of the Jungle"), and several in between, including Mahmoud Ben Mahmoud's "Fatwa" (bronze at FESPACO in 2019, first prize at Carthage Film Festival in 2018), Ola Balogun's "Black Goddess" (1978), and Souleymane Cissé's "Baara" (1980), all seminal works that define themes explored in contemporary African cinema.