Pantaleo Has To Go: Officer stands trial for death of Eric Garner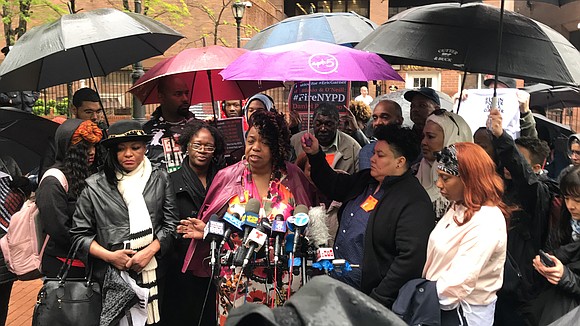 "God knows I need the support," said Gwen Carr, mother of Eric Garner, while addressing the media at One Police Plaza in lower Manhattan on Monday, May 13.
NYPD Officer Daniel Pantaleo's trial began this week with Carr hoping it ends with him being found guilty of her son's death. A grey, dreary and rainy Monday afternoon marked the occasion. To Carr, the weather was indicative of the moment.
"These are just tears from heaven," said Carr. "Eric is crying tears from heaven because he sees his mother and his family out here still trying to fight for justice for him…Five years, we've been on the front lines trying to get justice and [they] keep trying to sweep it under the rug."
On July 17, 2014, Pantaleo and other officers were captured on video as they attempted to arrest Garner for selling untaxed cigarettes in the Tompkinsville neighborhood on Staten Island. The video showed officers using force in the arrest; none intervened to help when Garner said, "I can't breathe." Garner's last words became a rallying cry for activists, and athletes wore "I Can't Breathe" t-shirts before games.
NYPD officials and officers first claimed that Garner died of a heart attack then leaked sealed records of Garner's legal transgressions and allegedly lied on official reports.
"Five years this family's had to endure this pain," said National Action Network President Al Sharpton. "As I sat there next to Ms. Carr and her daughter and we had to take them out twice seeing that film. Pantaleo is not the only one on trial. The police department of New York City's on trial."
During Tuesday's testimony, NYPD Inspector Richard Dee said Pantaleo was never trained to use a seatbelt hold despite the officer's lawyer, Stuart London, stating that his client used the "NYPD approved" maneuver to take Garner down. According to Dee, the seatbelt technique wasn't taught in the academy when Pantaleo was there in 2006 or in 2008 during his plainclothes training. It wasn't introduced until 2011.
A medical examiner for the city, who ruled Garner's death a homicide, said he died from chest and neck compressions and medical ailments.
London said in court that there's no evidence that Pantaleo applied pressure to Garner's neck.
On Wednesday, New York City Medical Examiner Dr. Floriana Persechino testified that the autopsy she conducted confirmed that the banned chokehold Pantaleo performed on Garner sparked an asthma attack, which led to him not being able to breathe.
When the autopsy photos were displayed during Persechino's testimony, Carr left the room.
Loyda Colon, co-director of the Justice Committee, said that she had to continually console Carr during court proceedings.
"The day after Mother's Day, Ms. Carr is being forced to sit through this trial to watch the video of Eric being choked to death by Pantaleo, repeated over and over," said Colon. "Let's be clear, this is only the trial for Pantaleo. They're several other officers who lied on the stand and officers who had their knees on Eric's face and officers who held down his head while he said 'I can't breathe' and didn't let go. These officers are testifying in this trial and they're not being charged."