Abortion Dilemma: US tackles divisive topic, Black community speaks
NAYABA ARINDE Amsterdam News Editor and CYRIL JOSH BARKER Amsterdam News Staff | 5/23/2019, midnight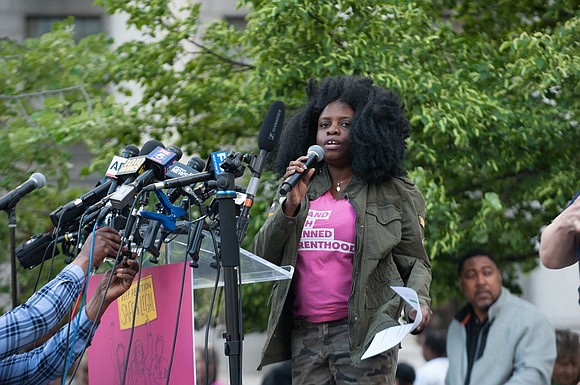 "Old white male lawmakers, and the men who agree with them, do not have a nickle in this dime when it comes to a woman, abortion and her body," said Anna, who wants to remain anonymous, but wants the point made on this explosive matter. The recent bill passed in Alabama virtually banning all abortions in that state, with the exception of when a woman's life is in danger, sent shockwaves across the nation with fears that Roe v. Wade could be overturned.
It is a polarizing topic of conversation, and right now elected conservatives are making it a hot button issue.
"This is a state of emergency. Black women and girls are at risk and in danger. Our lives are at stake," said Marcela Howell, founder and president of In Our Own Voice: National Black Women's Reproductive Justice Agenda. "The reproductive health crisis for Black women puts us at a three-to-four-fold risk for maternal morbidity and mortality and has led to wildly disproportionate rates of HIV infection."
According to the Center for Disease Control, Black women have a significantly higher abortion rate than whites and Hispanics. In 2014, 36 percent of all abortions in the U.S. were performed on Black women.
"I'm still heartbroken that my colleagues wanted to move forward with such a heinous bill," said Democratic State Sen. Bobby Singleton. "Under the statute, rapists get up to 10 years but the bill gives doctors who perform the abortion 25 to life and attempted abortion 10 to 25. The rapist will get less than the doctor."
Singleton said that the bill clearly violates Roe v. Wade. Before the vote, Singleton said if his daughter was raped and became pregnant, she would have to look at her attacker's face for the rest of her life. He pointed out that the Republicans' attempt to overturn Roe v. Wade could be the start to overturning other landmark decisions. With conservative justices making up the majority of the U.S. Supreme Court and President Donald Trump in office, Republicans could go after other landmarks such as Brown v. Board, which desegregated public schools.
"I think you open up Pandora's box, you never know what's going to come out," Singleton said. "We saw the Shelby County case that turned over the Voting Rights Act, and Brown v. Board could be next. So many things are at stake under this administration."
Known as the "Human Life Protection Act," Alabama's House Bill 314 was voted on by state legislature and signed by Gov. Kay Ivey last week. The bill criminalizes abortion and doctors who perform abortions in Alabama could be sent to prison for life. The law does not include abortions performed as a result of rape or incest. The Republican majority State Senate passed the bill 25–6.
Republican legislators have been open about their hopes that challenges of the law go all the way to the Supreme Court that would overturn the 1973 landmark Roe. v. Wade. The decision legalized abortions in America.
Alabama's abortion law is the strictest in the nation. Other states such as Georgia, Kentucky, Mississippi and Ohio have enacted or proposed bills aimed at putting tight restrictions on abortion.