Malcolm X Day 2019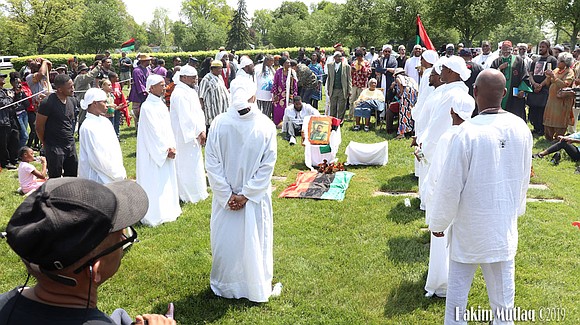 A number of local events took place Sunday to commemorate the 94th physical day anniversary of revolutionary freedom fighter Malcolm X.  His advocacy for Black self-determination and unity were on full display throughout the city with participants joining in from across the globe.
Malcolm X Day 2019 began Sunday morning at the northeast corner of 125th Street and Adam Clayton Powell Jr. Boulevard. with the 54th annual pilgrimage to Westchester County's Ferncliff Cemetery where the bodies of Malcolm X, and his wife Betty Shabazz, are interred.  African drummers set the tone prior to the caravan of vehicles departing at approximately 10 a.m.  Upon arrival, many other supporters who traveled in from various locations met them.
Moderator/Professor James Small clarified, "This is not a Muslim affair.  This is an O.A.A.U. (Organization of Afro American Unity) affair, administered
by the Sons of Africa," as he shared a brief history about the two groups and how the annual pilgrimage was established 54 years ago by Malcolm's sister, Ella Collins.
"We're here to visit a martyr," he stated.  "A man who said, 'My religious philosophy is Islam,' which he used to develop his character, ethics, principles and morals.  He said, 'My political philosophy is Black nationalism,' and he defined that as Black people taking control of the communities within which they live—economically, politically and culturally.  Malcolm left enough speeches, and enough of them have been put into written work, to study and be well informed on what we should do.  We're there to pay respects to a man who took, not three nails, not a spear, but 19 bullets on your behalf so you know how to take a stand for yourself."
The ahdan (Islamic call to prayer) was called as 10 men draped in all-white then took their positions around the red, black and green Pan-African flag draped over the gravesite where Malcolm's and his wife Betty's bodies lay, and a wooden chair with his photo stood.
Imam Talib (Mosque of Islamic Brotherhood) shared an Arabic blessing, and Imam Abdul Khaliq shared some relevant history before members from the Akan and Yoruba communities poured libations "for us to pay tribute to those who came before us," Dr. Khalfani explained.  "We're here today to connect with a transformative spirit that enabled us to do things we weren't able to do, based on his willingness and ability of the spirits that transformed him, we now hope that those spirits now transform us, a'se!"
He then called for those in attendance to call upon their personal ancestors. adding: "Malcolm is alive and among us and we have to make sure that his name will always be spoken."
Brother Mike Madjiwon Anishinabee Ojibway, Little Halfmoon, from Northern Ontario's Native American community, said: "I was happy to see that the young people are sitting close.  I am very honored to be here today.  We need to look within ourselves for the answers."  He then delivered an indigenous chant "which talks about the spirits that were sent to this earth at this critical time by the creator."
Malcolm's grandnephew, Arjun Collins, added:  "Today is about remembering Uncle Malcolm.  He loved his sister," before recalling their relationship.