The Alvin Ailey School: 50 years and still going strong
Zita Allen | 5/30/2019, 2:59 p.m.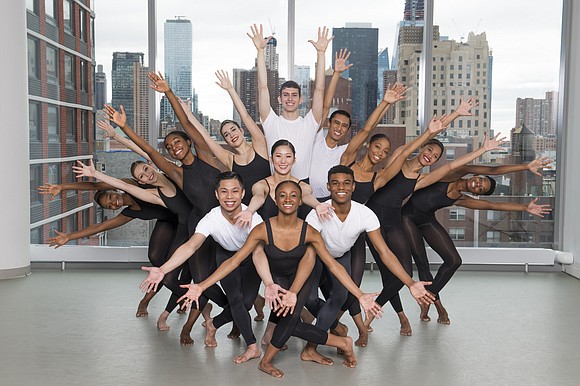 On Thursday, June 13, the centerpiece of Alvin Ailey American Dance Theater's Lincoln Center engagement will be The Ailey Spirit gala, which launches the 50th anniversary celebration of The Ailey School. The evening's honorary chair is award-winning actress Lorraine Toussaint, star in NBC's "The Village," Netflix's "She-Ra and the Princesses of Power," AMC's "Into the Badlands," and the recently released supernatural thriller "Fast Color" and also the proud parent of a student at The Ailey School.
Lighting up the gala will be a one-night-only performance that is bound to bring down the house as it brings together former AileyCampers from New York and Newark, talented students from The Ailey School, rising stars of Ailey II, and the incomparable members of the Alvin Ailey American Dance Theater. All come together to pay tribute to the school's impact in a work choreographed by Ailey II Artistic Director Troy Powell.
The piece d'occasion follows the story of a young boy from an Arts In Education program to the Company, which parallels the inspiring journeys of Powell—who was discovered by Mr. Ailey at an outreach activity at age 9 and awarded a scholarship to The Ailey School, before dancing with both companies and later leading the junior company—and Ailey dancer Solomon Dumas, who was introduced to dance at AileyCamp Chicago and has participated in all parts of the organization. The program's Revelations finale will be followed by a festive soirée that takes place on the promenade with dancing to the spinning of DJ M.O.S.
This 50th Anniversary Celebration kick-off includes a number of highlights and special activities led by Co-Directors Tracey Inman and Melanie Person.
Inman could barely contain his excitement about the upcoming celebration when, during a recent interview, he said, "The fact that we're still here and thriving really demonstrates the importance of the training that Mr. Ailey believed, training that doesn't pigeon-hole the artist as a ballet dancer or a modern dancer but trains them to be a dancer and one who believes that dance comes from the people and must be given back to the people."
Inman himself is a product of the Ailey School. "I came to the Ailey School in the early 1980s from Washington, D.C. The thing that stood out to me when I got here was all these phenomenal, well-trained, finely tuned dancers' bodies. I was 21 and felt so blessed to be in that space with such talented, disciplined and driven artists.
"I studied Horton, Graham, ballet, West African, Dunham, basically the same thing we're doing now. We're also really engaged with contemporary dance and improvisation and other skills that provide dancers with key tools they need nowadays. But, I think the core curriculum then is the same as it is now. Mr. Ailey liked dancers with a ballet bottom and a modern top that had that fluidity in their torso and those really sharp and clean leg lines that a ballet dancer can achieve."
Inman also pointed to the tremendous outlets for dancers as their technical proficiency and artistry progress. "I was also in Ailey II at one point when Mr. Ailey came in and rehearsed with us and watched us work on 'Blues Suite.' It had a tremendous impact on us to be in the same space as this legend. Sometimes he'd even invite us students into the studio to watch the AAADT company rehearse. It was amazing to see him working with those dancers. It helped feed our desire to really do well, work hard and gave us something to look forward to." Now, Inman says, similar opportunities continue to give young students at The Ailey School a sense of the path they have chosen to follow.