STOP THE BULLETS: Activists decry Memorial Day/start of summer violence in BK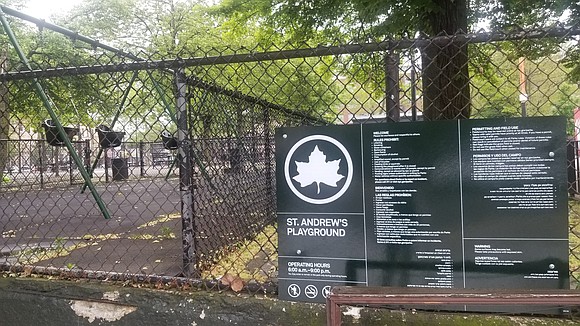 Red for the blood, white for the hoodie worn by one of the shooting suspects, and blue for the uniforms that came to carry the injured and those who followed to investigate the two Memorial Day shootings in Brooklyn that left six people shot in two separate incidents, leaving one man dead.
"Unfortunately when the sun comes out the guns come out! Our people must put a greater value on life!" said East New York Assemblyman Charles Barron.
Police say the first shooting happened by the Pink Houses in East New York, at 6:53 p.m., when a man fired at least 12 bullets from across the street into a crowd in a park near a school on Hemlock Street.
One of the bullets hit Basheem Graham, 42, in his neck and head. Witnesses described the bloody scene, saying he fell to the ground and his eyes filled with blood. Police say he was pronounced dead at Brookdale Hospital. Two other men were hit with non-life threatening injuries.
The NYPD stated, "[A] preliminary investigation revealed that a large crowd was gathered at the location when an unknown male approached on foot, fired multiple rounds then fled southbound on Autumn Avenue. A 46-year-old male victim left the scene in a private vehicle and was found with a gunshot wound to the arm at the intersection of Eldert Lane and Linden Boulevard where he was then transported by EMS to Brookdale Hospital Medical Center in stable condition. A 34-year-old victim was removed via private means to Brookdale Hospital Medical Center with a gunshot wound to the chest and is in stable condition. The identity of the deceased is pending family notification. There are no arrests and the investigation is ongoing."
While police released a video of a young man wanted for questioning, there have been no arrests in either case at press time.
Later at 9 p.m that same day, a 16-year-old teen and two others were shot at St. Andrews playground on Herkimer and Kingston streets in Bedford-Stuyvesant. The 16-year-old boy was shot in the shoulder, and another 19-year-old and a 16-year-old teen were both shot in their right leg. Taken to Interfaith Medical Center and Kings County Hospital, the three teens are expected to survive.
"The New York City Crisis Management System needs total support from the city, federal, private and community support," said A.T. Mitchell, founder and executive director of East New York-based Man Up! Inc., the multicultural social service agency for neighborhood improvement. "Our community—backed by the statistics from the city and law enforcement—show that where we are located in the 75th Precinct, Man Up! Inc., our Woman Up! Inc., we are effective. We tackle the violence issue 100 percent. But, we are not in the Pink Houses, we are not sufficiently funded to cover that part of East New York unfortunately, and so the results show."
"More cops and more jails is not the answer," charged Barron. "More jobs, more youth centers, cultural programs, more funding for community patrols, funding for anti-poverty programs, and a serious economic development plan will go a long way in seriously addressing crime and gun violence, along with funding and supporting anti-violence programs like ManUp!, Life Camp and others."