Unita Blackwell: Civic leader and civil rights icon
Herb Boyd | 5/30/2019, 9:52 p.m.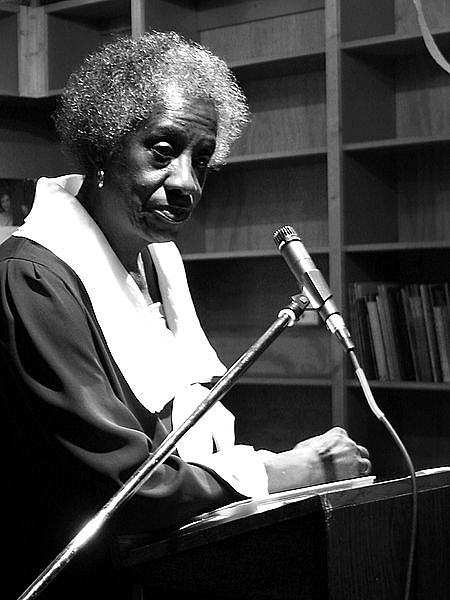 If you are a poor Black woman born in the Mississippi Delta, you have three strikes against you, and chances are you'll end up where you started. This was the hand fate dealt U.Z. Brown, but she changed her name and while singing "We Shall Overcome" she managed to transcend her awful beginnings. In effect, Unita Blackwell, the name that would bring her iconic recognition, and earn her lasting fame as a champion of civil rights.
Born U.Z. Brown on March 18, 1933, in Lula, Miss., to sharecropper parents, her name, given to her by her uncle, was changed by the time she was in the sixth grade when a teacher told her she needed a real name, not initials. The U.Z. was changed to Unita Zelma.
Adding tragically to her early years was the death of her grandfather who was killed by a white plantation boss. She was three years old when the family left Mississippi for Memphis, Tenn., after her father confronted his boss about speaking to his wife. Searching for whatever work they could find, her parents eventually separated mainly due to religious differences. This split left Unita and her mother to fend for themselves and they later settled in West Helena, Ark., where they lived with her great aunt.
The relocation gave Unita an opportunity to attend school much more than the restrictions imposed on children in Mississippi. Although she lived in Arkansas, Unita still found time to visit her father in Memphis and her grandparents in Lula. During the summer months in Lula most of her time was spent chopping cotton, earning $3 a day. Besides picking cotton in several states, she also peeled tomatoes in Florida. By the time she was 14 she finished the eighth grade and that was the extent of her early formal education.
Unita was 25 when she met and later married Jeremiah Blackwell, a cook in the Army Corps of Engineers. In 1957, she became extremely ill, and after being hospitalized in West Helena, she was pronounced dead. But somehow later she was found alive and believed she had had a near-death experience.
In 1957, the couple's only son, Jeremiah Blackwell Jr., was born and by then they had moved into her grandmother's house after her death. The house was in Mayersville, Miss., and she kept the house because "it reminded me of where I came from," she said. It was here that she got her baptismal in the Civil Rights Movement.
Seven years later, after meeting Fannie Lou Hamer and learning of her courageous acts, Unita decided to join the Student Nonviolent Coordinating Committee. She was soon in charge of voter registration campaigns in Mississippi. Subsequently, she became a member of the executive committee of the Mississippi Freedom Democratic Party, and a delegate to the 1964 Democratic National Convention in Atlantic City. Many Americans remember this event for the bold stance of the African-American delegates and Hamer's fiery speech, and unflinching leadership.
Back home from the convention, Unita spearheaded a Head Start program for children. In the late 1960s she worked as a community development specialist with the National Council of Negro Women. Out of this involvement she became an essential worker in a program to assist people to build their own homes. Even so, this did not interfere with her civil rights activism which often found her behind bars; in fact, she was arrested more than 70 times for her activism.