Bill Pickett, rodeo star of bulldogging fame
Herb Boyd | 11/7/2019, 11:57 a.m.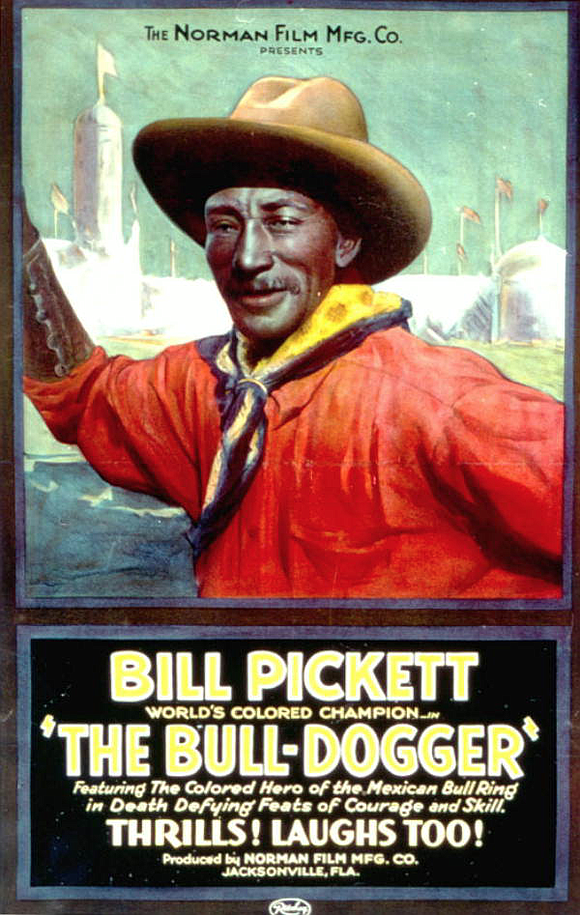 Two weeks ago I featured Sarah Jane Woodson Early in this column, a profile prompted by the arrival of Williams Loren Katz's "The Black West," the sixth edition of the classic. On another page in the paper there's an obituary of Bill, who joined the ancestors at age 92 Oct. 25. This week I highlight the life and times of rodeo immortal Bill Pickett, who, like Mrs. Early, is among the Black pioneers cited by the late historian.
In the "Introduction to The Black West," Bill recalls a conversation he had with the great poet Langston Hughes. Bill sought out Hughes requesting permission to use one of his quotes for his book "Eyewitness," to which Hughes gladly consented. "Don't leave out the Black cowboys," Hughes told Bill, and this he obeyed with gusto and practically with unprecedented detail.
There are a number of notable Black cowboys to choose from in Bill's book, but selecting Pickett was aided by the Google meme of the day with a man riding a horse with a lasso looping over his head. It was commemorating the birthday of Will Rogers, born Nov. 4, the rodeo performer and later popular storyteller and Hollywood star. At one time he was as a member of the 101 Ranch Wild West Show and shared the spotlight with Pickett.
"Zack Miller, owner of the huge sprawling 101 Ranch in Oklahoma, described Bill Pickett as 'the greatest sweat and dirt cowhand that ever lived—bar none,'" Katz wrote. "But Pickett was far more. He invented bulldogging, the most famous rodeo sport and the only one of the eight rodeo sports credited to an individual."
Bulldogging, Katz explained, involved riding one's horse after a steer and then leaping out the saddle to grab the steer's horn with a hand. After accomplishing this dangerous feat, the rider digs his boot heels into the ground, flips the huge beast by pulling its head upward and holds on until they both came to a halt. "Pickett not only did this with relative ease," Katz continued, "but also completed his daring act with a flourish: he sank his teeth into the steer's upper lip and then raised his hands to show that his only grip was teeth to lip." He learned this trick after witnessing a bulldog leap on a steer and bite its upper lip, rendering the steer helpless and compliant.
Pickett was born on Dec. 5, 1870, in Texas to poor Black Cherokees. The second of 13 children, Bill left school after the fifth grade to become a ranch hand. He learned to ride and to watch the long horn cattle.
It was perhaps during his youth that he observed bulldogs chasing and subduing steers by biting their upper lips.
This was just one of several tricks Pickett perfected and later—with his four brothers—established as The Pickett Brothers Bronco Busters and Rough Riders Association. In 1890 he married Maggie Turner and they had nine children. Katz noted that Pickett signed with the 101 Ranch Wild West Show in 1907 where Rogers and cowboy movie star Tom Mix were among the troupe's performers. They staged shows all over the west, South America and Canada, and even spent several months in Europe in 1914 where Pickett picked up a smattering of German.