Brooklyn is in line for some practice and some camaraderie
VINCENT DAVIS | 11/7/2019, 1:37 p.m.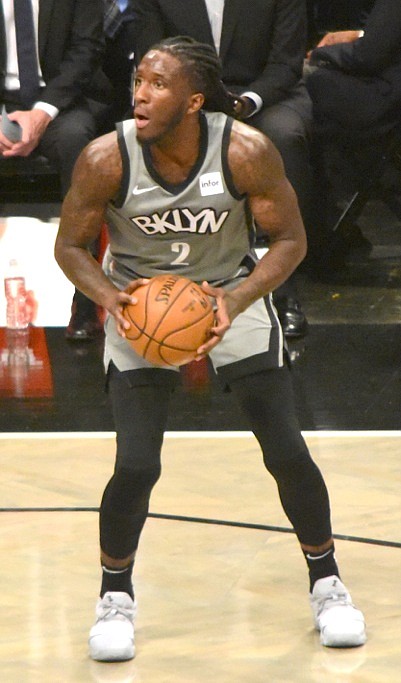 The Brooklyn Nets have had three away games so far this season, none consecutive. Tomorrow (Friday) begins their first extensive road trip of the season, five games, the first against the Portland Trail Blazers, the Phoenix Suns Sunday, the Utah Jazz Tuesday, the Denver Nuggets Thursday and the Chicago Bulls Saturday before returning home to face the Indiana Pacers once again.
"There's nothing like being at home, but that's really where you come together as a group," said Nets guard Kyrie Irving about road games.
"Some great matchups up ahead. You just look forward to that challenge. Just use the time to build team camaraderie."
Irving is looking forward to the competition, "going against other good guys in our league."
Brooklyn leaves town with a 3-and-4 record, a one game win streak. A 135-125 victory over the New Orleans Pelicans at Barclays Center Monday.
The Pelicans were without rookie Zion Williamson, currently on the injured list, but Brandon Ingram's 40 and their 37 bench points nearly did Brooklyn in. Brooklyn even lost a 20 point lead. Their 24 turnovers helped.
Up by only two with 4:43 left on the clock in the fourth, Brooklyn finally got it together. A Jarret Allen dunk and a defensive rebound leading to an Irving jumper expanded the Nets' lead, 125-119.
Led by Irving's 39 and 9 assists, his second highest point total so far as a Net, Brooklyn's starting five all logged double digit points. Caris LeVert dropped 23, 19 from Joe Harris, 18 from Allen and 12 from Taurean Prince.
Between Tuesday and tomorrow, they'll have time for practice, to work things out.
"We'll have two or three practice days," said head coach Kenny Atkinson concerned about the 24 turnovers logged in their box score. "Two practice days to kind of get in training camp mode." They'll run through their offense, see where they're making mistakes defensively, better understand what they're doing right and what they're doing wrong. "We definitely have some work to do."