Hunter prepares for the CUNYAC championship
LOIS ELFMAN | 11/7/2019, 1:29 p.m.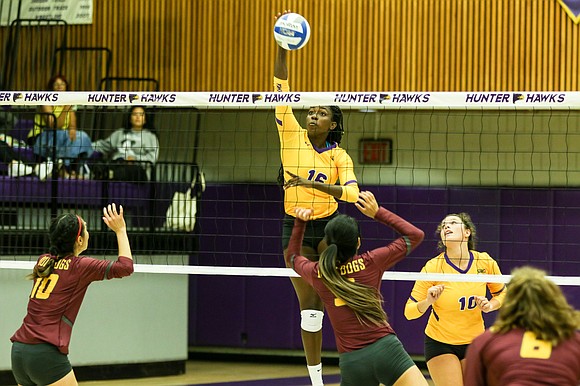 The entire season for Hunter College volleyball has been building toward the upcoming Division III NCAA Tournament. First, the Hawks need to vanquish the competition in the CUNYAC Women's Volleyball Tournament, which is being held on Friday at Hunter.
The Hawks have gone 7–0 in conference play, so hopes are high the team will prevail. Should Hunter win another CUNYAC title, the team is bound for the national tournament with the goal of advancing past the first round. In order to secure a better seed, the Hawks have played an intense non-conference schedule.
Last weekend, the Hawks were in the Boston area, taking on two nationally ranked opponents, Babson College and Tufts University. These were tough, intense matches. Although Hunter did not win either, they were competitive, even winning a set against Tufts. In the third match of the weekend, Hunter defeated Colby College.
"[Babson] was a little surprised at how strong we came out," said Hunter head coach Alyssa Broccoli. "Throughout the course of the year, our challenge has been the mental part of our game. It's not so much our skill set. There are people in roles they haven't been in before."
She continued, "Our match with Colby was pretty competitive. We won in five. That is our 10th five-set match of the season. Currently, we're 7–3 in five-set matches. It really defines our team. We're very resilient. We don't give up."
The team has worked hard since the off-season to build strength and stamina knowing they'd be challenged. Broccoli added 7 a.m. morning lifting one or two days a week. Her vision is to shift the team's culture with strength and conditioning.
"This [road trip] was an opportunity for them to play some really good volleyball so they're prepared for the NCAA Tournament," Broccoli said.
First, the Hawks have to get by other CUNY teams. The team is led by two seniors, co-captains Kylie Hurst and Summer Magliochetti, both of whom came in as transfers last year and stepped into leadership positions. The starting libero, Sunghee Cho, plays six rotations.
"A lot of our offense comes from our middle," said Broccoli. "We have Kendra Moore [who is currently injured], but I hope she's going to be OK for Friday. She has played a huge role in terms of blocking and offense…We have sophomore Mariam Ouattara, who has stepped up on the right side position. She has completely elevated her game.
"I'm proud of the team because they're young and a little inexperienced, but they step up and they're not scared."