Kenyan Joyciline Jepkosgei shocks all, dominates this year's marathon
VINCENT DAVIS | 11/7/2019, 1:48 p.m.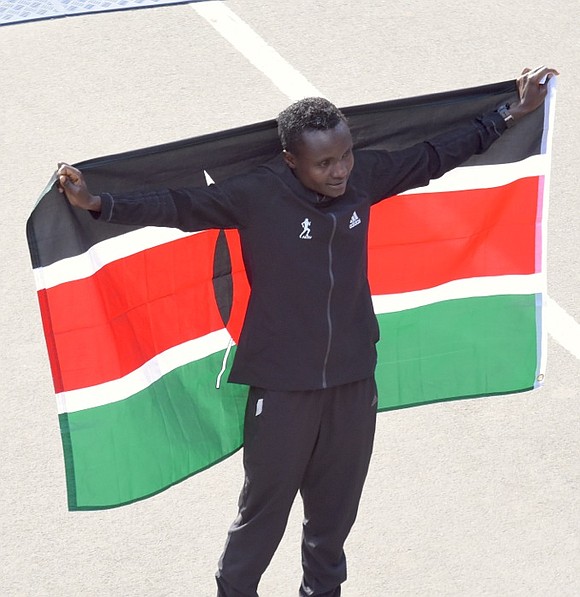 Kenya, a country in East Africa with a population of 49 million plus people, is a leading producer and exporter of tea, coffee and fresh produce. It also produces some of the fastest women runners that the TCS New York City Marathon has ever seen.
Twenty-five year old Joyciline Jepkosgei is the youngest and latest Kenyan to cross the marathon's finish line, first in her division. Jepkosgei was followed by defending champion Mary Keitany, also from Kenya.
Jepkosgei, currently the half-marathon world record holder, officially finished in 2:22:38 in her marathon debut, 26.2 miles. It was the second-fastest time ever recorded in the marathon's women's division. It was also the fastest ever by a woman making her New York City Marathon debut. Her strategy was, "to finish the race strong."
Keitany, 37, the favorite, a four time New York City Marathon champion who finished first last year, finished with a time of 2:23:32. In past years, she's also placed third twice, seven appearances in total. She's experienced.
"I didn't know I can win because of my friend Mary," said Jepkosgei, more modest at the podium than while dominantly running the streets of New York City. "I was very happy to run with her and to compete with major marathoners here."
It was expected for Keitany to break away from the pack some time late in the race. At one point, her position fluctuated between third and ninth. During a point in the 21st mile, it was Jepkosgei and Keitany, side by side.
"Sometimes a race is a race. Anything can happen," noted Keitany, satisfied with her performance. "I'm happy with my results of today because I tried my best, and the results that came up is OK for me. I don't have any question to ask, or to think of why I not win, but also I celebrate my colleague, and we are happy that we take the winning back home."
The TCS New York City Marathon is the largest marathon in the world. It's where the world comes to run. The world's top professional athletes along with runners from over 125 countries, come here each year to compete.
Participants run through neighborhoods of the five boroughs starting in Staten Island in the early morning on through Brooklyn, Queens, the Bronx, and Manhattan concluding in the sixties on the west side of Central Park.