Mini moons for brides and grooms
SHERYL NANCE-NASH | 11/7/2019, 1:16 p.m.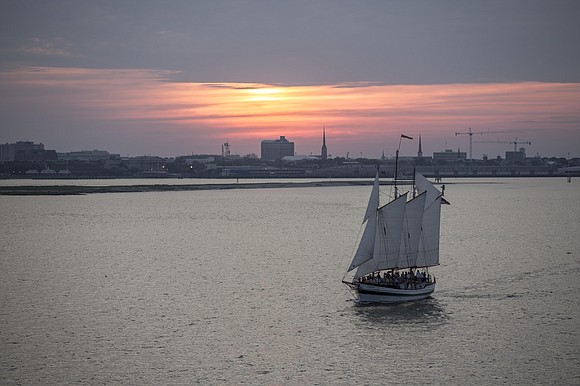 You don't have to follow the convention that says you take your honeymoon immediately after the wedding. A short trip after the big event, and a honeymoon later can be ideal.
These days, some couples put off taking a traditional honeymoon, and instead escape for a few days after the wedding for immediate R&R. Mini moons, a three or four-day getaway, also makes sense financially. The bride and groom can rebuild their savings and take that bucket list honeymoon later.
There are many destinations that are ideal for newlyweds—romantic, serene or big fun. Here are a few places to put on the mini moon list.
Charleston, South Carolina
This southern city is known for romance. Take a horse-drawn carriage ride, bicycle or picnic along the waterfront. The food is famous for being fab. Charleston is a place where you can get pampered. Take for example, The Spectator Hotel, which recalls the extravagance of the roaring 1920s and is in the heart of Charleston's historic district. But there's nothing old fashioned about the service, personal butlers, locally sourced in-room breakfast, snacks and beverages. Have fun at The Bar, one of the city's best speakeasy-inspired bars showcasing elevated handcrafted cocktails.
Lake Geneva, Wisconsin
Lake Geneva is ideal for a romantic mini-moon getaway weekend, with its foliage, lake views and cozy restaurants. Enjoy walks along Lake Geneva's 26-mile Shore Path that has views of historic mansions. Feeling ready for action? Dan Patch Stables at Grand Geneva has guides take groups on 45-minute horseback riding treks through hundreds of acres of lush landscape. For couples who both share a passion for golf, The Brute and Highlands Golf Courses are great options. The award-winning Grand Geneva Resort &Spa, a 1,300-acre resort in Lake Geneva, has villas with amenities like their own outdoor swimming pool during the summer season, as well as six fire pits available for evening enjoyment and entertainment. The villas also offer in-room spa treatments. When hunger calls, favorite spots include Ristorante Brissago, Lake Geneva's premier Italian restaurant, with its comprehensive wine selection and The Geneva ChopHouse.
Lake Placid, New York

Outdoor loving couples will love Lake Placid's beaches, kayaking, canoeing, paddle boarding, boating, sunset cruises and hiking. Or if you two just want to chill, settle in a reclining beach chair on a white sand beach and stare at the mountains. No worries about what to eat, Lake Placid and the surrounding area has a variety of cuisine, from traditional American, barbecue, (Smoke Signals restaurant is much raved about), organic, fine dining, to places like Simply Gourmet, with 46 different sandwiches named after the 46 Highest Peaks in NY State. Top-notch resorts like Lake Placid Lodge and Whiteface Lodge offer a woodsy yet elegant experience. The days can be spent becoming one with nature, earning a gold medal at the Olympic village or popping into quirky local stores.
Vail, Colorado
Vail is an idyllic village, an escape in the Rocky Mountains. In winter, have your share of fun skiing, snowboarding, tubing. Other seasons, bike, hike, fish, boat, golf, paddleboard, hop on a horse. After all the fun chill out with the many yoga classes around town, and spas. There's no shortage of awesome cuisine. Don't leave town without eating at Matsuhisa, Sweet Basil, Vintage and Mountain Standard. This small town is big on food! Treat yourself to a stay at The Sebastian. It has a mountain-view pool, hot tubs, Bloom Spa, modern-style comfort food at its restaurant Leonora and great cocktails at The Frost Bar.
Cape Cod, Massachusetts
Then there's charming Cape Cod. You might want to celebrate by staying at the only five-star resort on Cape Cod, the Wequassett Resort and Golf Club. Swim in the oceanfront pool and when you tire of the myriad water sports, golf or play tennis. The nearby town of Chatham is a fun hangout. Shop the boutiques, people watch, feast on oysters, hey they are aphrodisiacs. Wash down with a swill of champagne.