Same as the old boss: De Blasio shows little imagination with new police commissioner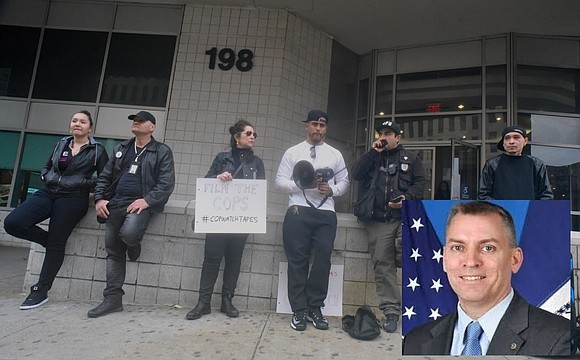 New York Police Commissioner James O'Neill abruptly announced his resignation and retirement on Monday. Not an hour went by before the name of a possible replacement floated around political circles. The rumors were true.
New York City Mayor Bill de Blasio appointed another white guy.
"I'm leaving because I have another opportunity," said O'Neill during a City Hall news conference. "I'll talk a little bit more about that after I leave, but it's something I couldn't pass up. I've been doing this job for almost 37 years now. I love being a cop, and I consider myself a cop as the police commissioner. I never considered myself a sergeant, lieutenant, captain, whatever rank I was—I considered myself a cop, because I know what it's like to be out there at two o'clock on a Saturday morning when you're it and people look to you—'Hey, keep me safe, make me feel better.' And that's what our cops do each and every day, and you do it because they want to. Nobody gets drafted into the Police Department. They join it to make a difference and to do good."
In the aftermath of O'Neill's resignation, the mayor announced the appointment of NYPD Chief of Detectives Dermot Shea to police commissioner.
"...Commissioner Jimmy O'Neill, who's done such an outstanding job over these last years, will be leaving for a role in the private sector. He'll talk about that when he comes up to bat," said de Blasio. "Jimmy has done so many extraordinary things, I literally don't have enough time to list them all, but I can say the most important ones. He led a transformation that many people felt was impossible. I heard the doubting Thomases many times, they said that neighborhood policing wouldn't work, they said that the changes we were making would make us less safe, they said communities wouldn't buy in, they said police wouldn't buy in. They didn't know Jimmy O'Neill, and they didn't know what he had built and the caliber of the people he built it with, like Dermot Shea and so many others."
O'Neill served as police commissioner for three years taking the place of long-time commissioner Bill Bratton. The mayor said that O'Neill should be proud of crime in New York City being at its lowest since the 1950s.
"For the past three years, Commissioner O'Neill has dedicated his life to protecting New York City and we are all grateful for his service," said New York State Attorney General Letitia James. "Under his leadership, our city reached record low major crime rates and he worked to address many of the challenges that have long existed between the police and the communities they serve."
According to the mayor, 150,000 fewer people were arrested than five years before. De Blasio said that families being intact, safer streets, and respect between the community and cops have improved. But recent news says otherwise.
Last month, five teenagers were arrested on a Brooklyn subway platform in another incident caught on video. An officer could be seen punching a teenager as several other officers threw teenagers on the ground and put them in handcuffs. Police said they were responding to a call about a brawl on the platform. Recently, officers arrested 19-year-old Adrian Napier, with guns drawn, because he hopped the turnstile and didn't pay the fare. Video of the incident went viral with elected officials from Cuomo to Democratic presidential candidate Julián Castro weighing in on the incident. Last weekend, protesters staged a mass turnstile hopping protesting the over policing of fare beating (something that the NYPD says has gone up by 50 percent compared to 2018).