Same as the old boss: De Blasio shows little imagination with new police commissioner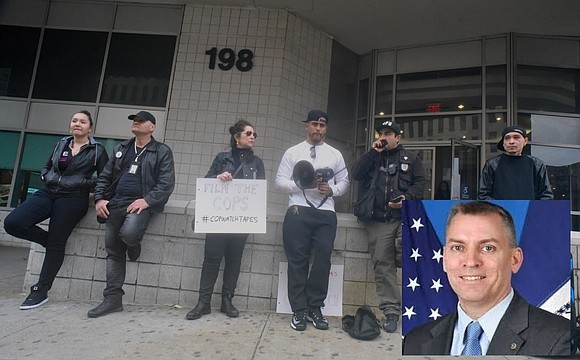 New York State Gov. Andrew Cuomo is currently proposing to hire 500 more MTA police officers to patrol the subways and buses despite the decrease in crime. For many, this is O'Neill's legacy.
"In spite of millions of public and private dollars spent on NYPD public relations and spin, Commissioner O'Neill's legacy includes doubling down on abusive broken windows policing, expanding police secrecy and refusing to publicly release the names of officers who kill and brutalize, launching unprecedented digital surveillance operations, and refusing to discipline and fire most officers who harm New Yorkers, including most of the officers who engaged in misconduct related to the NYPD killings of Delrawn Small, Eric Garner and others," stated Loyda Colon, spokesperson for Communities United for Police Reform and co-director of Justice Committee.
Tina Luongo, attorney-in-charge of the Criminal Defense Practice at The Legal Aid Society, said the city needs a more transparent and accountable police commissioner willing to better engage the community. She also said that the new commissioner's record isn't stellar as well.
"Under Chief Dermot Shea's watch, the NYPD has expanded its rogue gang database to ensnare thousands of Black and Latinx men and women, and codified practices to surreptitiously collect DNA at all costs, even from those who have never been convicted of or charged with a crime," stated Luongo. "This will be more of the same, and our clients—New Yorkers from communities of color—will continue to suffer more of the same from a police department that prioritizes arrests and summonses above all else."
A native of Sunnyside, Queens, Shea joined the force in 1991 and comes from a family of people who served in law enforcement and the armed forces. His brothers Jim and Chris served in the Marine Corps and as a transit cop respectively. Dermot served for two decades at the 46th Precinct in the South Bronx working his way up to chief of detectives.
This year, Shea fell into some hot water denying allegations that he shepherded random race-based DNA collections during investigations. The accusations were made during the trial of Chanel Lewis who was tried and convicted of killing Karina Vetrano.
"We are not randomly collecting people's DNA," Shea said during a New York City Council hearing about the NYPD requesting $420 million to create a new DNA and evidence facility. "If we did there would be a database of millions and millions of people. I am very comfortable with where we are given the size, the small number and that it is uniquely tied to crimes."
Leaders in the Black community and citizens' rights groups are weary of the new appointment and had a mixed reaction to the legacy O'Neill left.
"Dermot Shea has a very bad history," said Jose LaSalle, founder and leader of the Copwatch Patrol Unit in New York City. "So to put him in this position when he's already been caught lying? That's the wrong course."
LaSalle also wondered aloud why de Blasio picked Shea considering that NYPD Police Chief Benjamin Tucker, a Black man, exists. He saw it as a missed opportunity to change the NYPD from within and said that de Blasio made the wrong choice.