Talking SCHOP! Live your BEST life!
Kysha Harris | Food Editor, @SCHOPgirl | 11/7/2019, 11:54 a.m.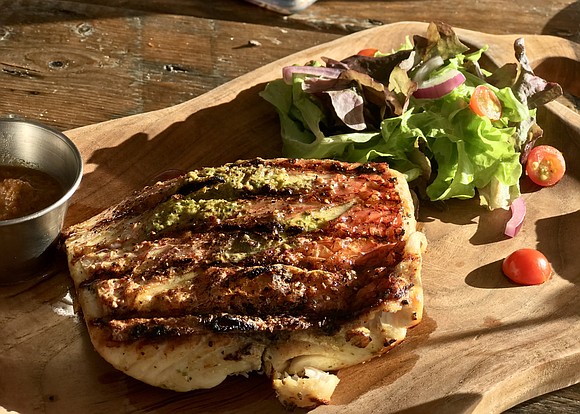 Fine. Oprah might have been the first person to say it but over the past couple of months I have come to know what "living your best life" is really about. Simply put, it is a choice, a decision, an opportunity to transcend an ingrained state of mind. I know this is not why you come to this page, but a strong belief is what feeds (pun intended) the words I write today.
This evolving "best life" epiphany magnified itself on my most recent trip to the island of Barbados to celebrate four decades of my fabulous and loving cousin, Quinn. Her man, Bob, and childhood friend, Glen, planned an epic vacation with more than 20 of her best friends and their spouses from all over the country.
As soon as we landed there were buses ready to shuttle us off to one of three guest houses. I was in House Imagine (aka, Too Live Crew) with couples Miesha and Jon, Charyse and Dre rotating into Janée and Jeffrey, Ladarrius and Kemal, and my single and outrageous roomie, Artesia. Our home away from home sat right on the west coast beach with a little wading pool. Heaven.
Now, I do not remember what happened from landing to our first dinner because we were each charged with buying a bottle at duty free on the way in and…ya know…"dranks, dranks, dranks!" Sometime in the early evening we walked down the road to the master residency of Quinn and House Noah's Ark, a three-level modern home with a 360-degree roof top deck, amazing views of the Caribbean ocean and access to a perfect sandy beach.
We soon walked down a nearby pathway to La Cabane (Batts Rock, St. James, lacabanebarbados.com) to dine on local organic ingredients prepared Mediterranean style. This oasis of a restaurant sits right on the beach, lit with lanterns and torches. Wooden tables and wicker and rattan chairs are poised under umbrellas while island music played. It was the perfect first night dinner.
I need to back into the food because I lived "my best life" a little too much and found myself being held up by a palm tree before dessert was served. (Highlight: I was the first to lose it and was congratulated for taking one for the squad.) I would only remember the food we ate this night after returning days later for lunch.
We began our meal with La Cabane's fish brochette (skewered), ceviche and white bean dip. These were all thoughtfully prepared and delicious, the latter two served with warm salted breadfruit chips. Just the right thing to soak up some alcohol in my system with great texture and flavor to boot.
Our entrees at La Cabane were the lot: chicken, pork belly, beef and whole fish. Again, from our future visit, I swooned over it all. Dessert? I was told was bread pudding.
Stay tuned for more of my "best life" in Barbados for Quinn's 40th…the trap catamaran, surprise popup from my aunt Sylvia and more food.
Happy eating and thanks for reading!
Kysha Harris is a food writer and editor, culinary producer, consultant and owner of SCHOP!, a personalized food service in NYC for over 15 years. Follow her on Twitter and Instagram, @SCHOPgirl, on Facebook, /SCHOPnyc, and her blog, www.talkingSCHOP.wordpress.com. Questions? Comments? Requests? Feedback? Invitations! Email AmNewsFOOD at AmNewsFOOD@SCHOPnyc.com. Follow us on Instagram, Twitter and Facebook @NYAmNewsFOOD and tag us with #SoAmNewsFOOD with your food finds!