AUDELCO noms are out; awards held Nov. 18
LINDA ARMSTRONG | 11/14/2019, 10:47 a.m.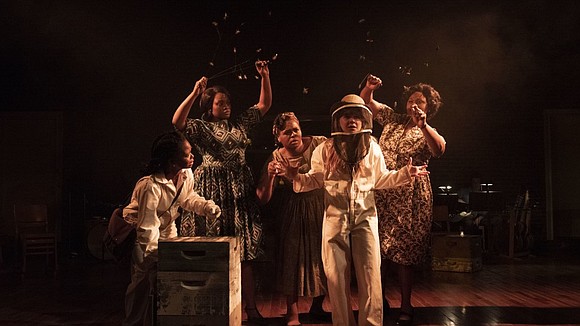 I hope that one of the very important practices that you do throughout the year is to go and support Black theater. If you did that then you know that the offerings in the 2018-2019 theatre season were incredible. If you saw a production or productions that you loved, identified with and would love to see acknowledged then you should be extremely interested in the upcoming 47th Annual Vivian Robinson AUDELCO Awards, which will be held on Monday, November 18, 2019 at the BMCC/Tribeca Performing Arts Center at 199 Chambers Street at 7 p.m. This year's theme is "The Legacy Continues." Honorary chairs this year will be Keith David and Dee Dee Bridgewater; Rhonda Ross will be honorary co-host. One of the lovely qualities of AUDELCO is that it consistently pays homage to our elders and it is doing that again this year as it gives Micki Grant the Legacy Award; the phenomenally brilliant Kenny Leon will receive the Outstanding Achievement Award; pacesetter lead Broadway producers Stephen Byrd and Alia Jones-Harvey and Oz Scott will be given the Special Pioneer Award; the extraordinary David D. Wright and playwright Ntozake Shange (posthumously) will receive the Board of Directors Award; veteran actress Barbara Montgomery and "Mr. Theatre" himself, Woodie King Jr. will receive the Lifetime Achievement Award. Raif-Henok Kendrick will be given the Rising Star Award.
This year 34 productions were nominated in the 23 categories. Leading the nominations with a record breaking 13 nominations is "The Secret Life Of Bees," a new musical produced by Atlantic Theatre Company. The "buzz" is, it is nominated for best musical; director of a musical—Sam Gold; outstanding musical director—Jason Hart; choreography—Chris Walker; lead actress in a musical—LaChanze and Saycon Sengbloh; lead actor in a musical—Chris Stack; featured actress in a musical—Elizabeth Teeter and Eisa Davis; featured actor in a musical—Nathaniel Stampley; sound design—Dan Moses Schreier; costume design—Dede M. Ayite and lighting design—Jane Cox.
Coming in with a very distinctive 11 nominations is "Much Ado About Nothing," the musical performed at the Delacorte Theater, part of The Public Theater's Shakespeare in the Park. It's nominations are for best musical; director of a musical—Kenny Leon; outstanding musical director—Jason Michael Webb; choreography—Camille A. Brown; lead actress in a musical—Danielle Brooks; lead actor in a musical—Grantham Coleman; featured actress in a musical—Olivia Washington and Margaret Odette; featured actor in a musical—Chuck Cooper and Tyrone Mitchell Henderson; costume design—Emilio Sosa.
Three productions that tied with seven nominations are "Ain't No Mo,' produced by The Public Theater, nominated for best play; director of a play—Steven Walker-Webb; playwright, Jordan E. Cooper, who is also up for featured actor in a play; lead actor in a play—Marchant Davis; sound design—Emily Auciello and lighting design—Adam Honore. "Toni Stone," produced by the Roundabout Theatre received nominations for best play; playwright—Lydia Diamond; lead actress in a play—April Mathis; choreography, nomination number two for Camille A. Brown; featured actor in a play—Harvy Blanks; set design—Ricardo Hernandez; and lighting design—Allen Lee Hughes. "Native Son," produced by The Acting Company is up for best play; playwright—Nambi E. Kelley; director of a play—Seret Scott; lead actor in a play—Galen Ryan Kane and Jason Bowen; featured actress in a play—Rosalyn Coleman; and lighting design—Alan