Firsts and legacies celebrated at NYAC All Sports dinner
LOIS ELFMAN | 11/14/2019, 1:50 p.m.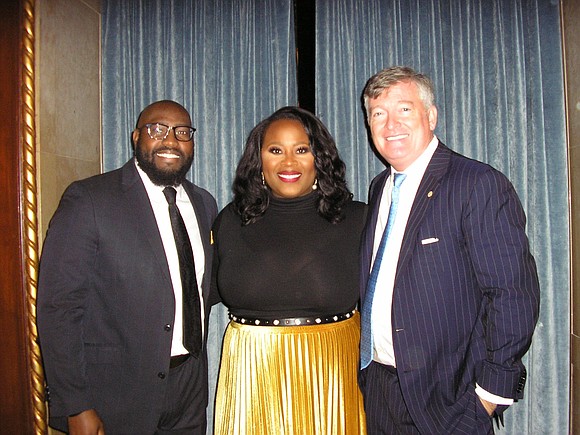 Last year, Deanna Price attended the New York Athletic Club All Sports dinner admiring the successful athletes all around her. She looked with awe at freestyle wrestling champion Adeline Gray, who addressed the audience on behalf of the athletes. Price returned this year with her own piece of history. Last month, she became the first U.S. woman to win gold in the hammer throw at the IAAF World Athletics Championships, and this year she spoke on behalf of the athletes.
"It's being able to bring that energy and excitement to throwing," said Price, who noted that female NYAC members hold American records in the discus, hammer, shot put and javelin. "Every time I come into this building, it's a new experience, a new legacy. [NYAC] has been around for 151 years and I get to say I'm part of the legacy."
NYAC has a rich tradition in sports. Athletes affiliated with the club have won 271 Olympic medals, 23 of which were won at the 2016 Olympic Games. Many of the athletes in attendance—representing a wide range of sports, including judo, water polo, fencing, track and field, swimming, wrestling and rowing—are vying for spots at the upcoming 2020 Olympics in Tokyo.
Among those preparing for Tokyo is Ashleigh Johnson, one of the leaders of the U.S. women's water polo team that won gold at the World Aquatics Championships in July. She and fellow water polo athletes vying for the Olympic team are currently based in Long Beach, California.
"We're in full-time training now and it's going to be an exciting adventure to see how we choose the team, who our opponents are—to see what the competition is leading into next year," said Johnson. "Having this opportunity to celebrate NYAC is really special to me and to my teammates because of how much the New York Athletic Club celebrates us."
The guest of honor for the evening was Retired Admiral William McRaven. He described himself as definitely not a star athlete, but rather an avid participant and lover of sports. He praised NYAC for supporting athletes striving for athletic perfection.
"Sports have left me a better person, and that's where its greatness lies," McRaven said. "Your success and how you handle that success shapes the lives of millions…How you carry yourselves on and off the field will affect lives. In representing sports, you're teaching the rest of us about life."