Winter festivals for cold-weather getaways
SHERYL NANCE-NASH | 11/14/2019, 1:17 p.m.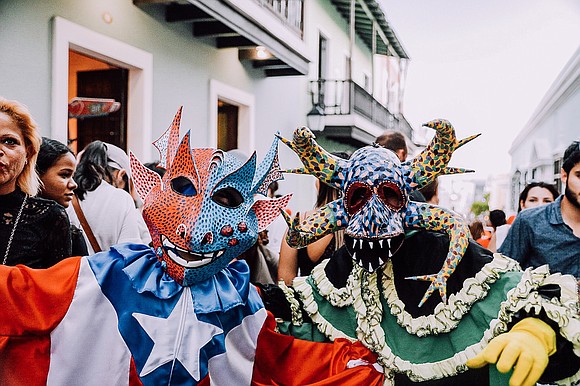 No doubt winter can bring its share of the doldrums. But sometimes the best thing to do is to roll with reality. Embrace the cold, flip convention on its head and go somewhere snowy. If you're not game for that, go ahead and seek out the sunshine. Whichever you choose, there are winter festivals all around the globe that offer a temporary reprieve from the winter blues.
Here's where to go.
San Sebastian Street Festival—San Juan, Puerto Rico; Jan. 15-20, 2020
Come ready to party! The festival features parades, music, dancing, food, art and more. Travelers from across the world gather together to celebrate all things Puerto Rico. Located just a few minutes' walk from historic Old San Juan, the Sheraton Puerto Rico Hotel & Casino is an ideal place to stay when traveling for this festival. After a long day parading the streets of Old San Juan, soak up the sun and take in unparalleled views of San Juan Bay all the way to the old city at the resort's infinity-edge rooftop pool.
International Chocolate Weekend—Miami, Florida; Jan. 25-26, 2020
When it comes to nature in Miami, it's easy to think of its white-sand beaches, swaying palms and the sparkling-blue waters of the Atlantic Ocean and Biscayne Bay. But drive just 30 minutes south of the beach, to posh Coral Gables, and you'll stumble upon what is really Miami's true natural wonder: Fairchild Tropical Botanic Garden. Spread across 83 acres of manicured and protected green space, this waterfront garden is filled with more than 6,000 rare, exotic and colorful plants, from palms and flowers to shrubs, vines, fruit trees and more, many of which you won't find anywhere else in America. You'll especially want to be there for the Chocolate Festival. You know it tastes good, but you'll discover a lot more about the sweet stuff. Go on a "ChocoWalk," buy a cacao plant, eat artisan chocolates and chocolate snacks. Learn about chocolate-making from Miami's master chefs and chocolatiers.
Copenhagen International Documentary Film Festival, CPH:DOX—Copenhagen, Denmark; March 18-29, 2020
This is one of the largest documentary film festivals in the world. Every year, the festival offers viewings of a variety of films at unique locations in the Danish capital. Whether it's staged in a graveyard, an old church, The Blue Planet (Danish Aquarium Denmark), it's always connected to the topic of the movie to set the right vibe. CPH:DOX also includes debates, artist talks, events, and master classes to complete the experience and create a space for the audience to reflect and discuss afterward. Take advantage to check out the recently opened urban skiing slope on top of a building, CopenHill.
Dana Point Festival of Whales—Dana Point, California; March 7-8, 14-15, 2020
What is it about whales that give you that sense of wonderment? Find out for yourself at the Dana Point Festival of Whales that celebrates the annual migration of the California Gray Whale. The festival offers a wide variety of free events that are fun for the whole family. Dana Point, located midway between Los Angeles and San Diego, is known for its culinary scene. The Charthouse Restaurant hugs the towering cliffs above Dana Point Harbor and provides a spectacular view along with its renowned steaks and seafood specialties. Cannon's, also atop the cliffs of the point, offers outside dining and a fabulous array of goodies. The area is ideal for sailing, fishing and other water fun.