The 2-8 Giants already have foot into next season
JAIME C. HARRIS | 11/21/2019, 1:25 p.m.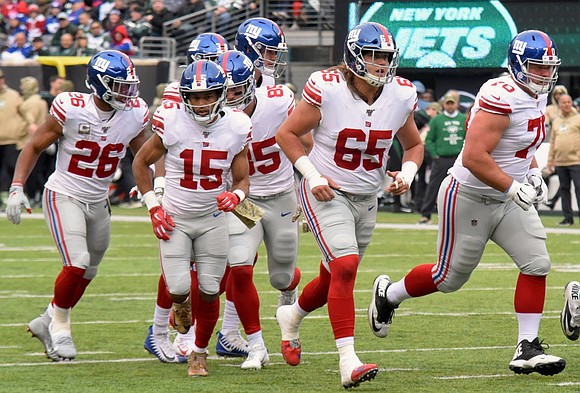 The Giants' shot-callers are already looking toward next season, evaluating how they can rebuild their talent deficient roster. They are focusing on the primary areas of need––the offensive line perhaps at the top of the list––the team's short- and long-term salary structure, and assessing their player personnel department, scouts and coaching staff, led by head coach Pat Shurmur.
This isn't shocking inside information. Just a logical analysis given their current situation. It's what's expected of co-owners John Mara and Steve Tisch, and general manager Dave Gettleman, as they watch their team wallow in seeming perpetual stagnation.
The Giants are 2-8 and will face the Chicago Bears this Sunday on the road coming off of their bye-week. They were 2-7 heading into Week 11 of the NFL season at the same time last year and 1-8 in 2017. Although they have not been officially mathematically eliminated from postseason contention, with six games remaining, the Giants have absolutely no chance of making the playoffs even if they went 6-0 the remainder of this season to finish at 8-8.
It will be the third straight season the Giants are on the outside of the tournament and seventh time in the last eight. While they are still trying to win games, they must also be prudent in maintaining the health of players that are critical to the development of a stable architecture. Most prominent among them is Saquon Barkley. The superlative second-year running back and reigning NFL Offensive Rookie of the Year incurred a high right ankle sprain in Week 3 versus the Tampa Bay Buccaneers and sat out the Giants' next three games.

He returned in Week 7 against the Arizona Cardinals but is clearly not as explosive, powerful or elusive as he was last season in producing 2,208 yards from scrimmage, rushing for 1,307 and catching 91 passes for 721 yards. In the Giants' last game, a 34-27 loss to the Jets, the 22-year-old Bronx native had an unthinkable one yard on 13 carries. But Barkley has rejected any suggestions he should be shut down for the rest of the season to allow his ankle to fully heal. He also refuses to attribute his low production to the injury.
"To say that I'm not healthy, that's just an excuse. Everyone is banged up, everyone is going through something and I'm not going to let that be an excuse for why I'm not having a successful season," said Barkley a little over a week ago. "The reason I'm not having a successful season is because I'm not making enough plays for my team."

The offensive line is also another reason. It's been a problematic unit for the Giants for the past several seasons and despite adding right guard Kevin Zeitler and right guard Mike Remmers last off-season, the results have been the same. They have labored in both run and pass blocking.