City Council approves of prevailing wage for building service workers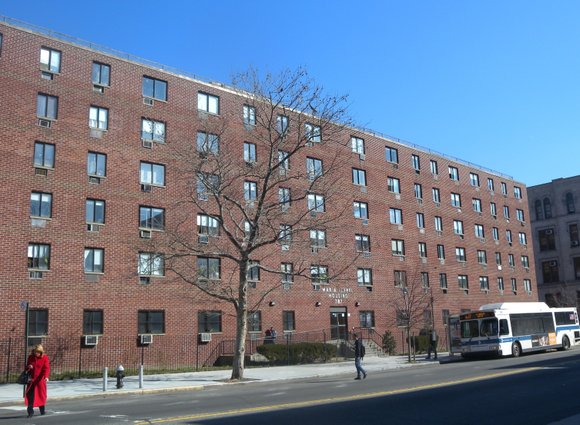 Building service workers at affordable housing developments are now ensured jobs with a prevailing wage and benefits.
Last week, the New York City Council passed Intro 1321 requiring affordable housing developments to carve out supporting housing for populations deemed vulnerable. Sponsored by New York City Council Members Rafael Espinal and I. Daneek Miller, the bill guarantees that as the city builds and preserves 300,000 affordable housing in low-income communities, that the workers in those buildings would be able to afford similar units.

"I will always stand with working-class New Yorkers. Sadly, too many of them work very hard for low wages, wages that are insufficient to raise a family, to put food on the table, to pay bills," stated New York City Council Member Corey Johnson. "This is not the New York we want. Some people need to have two or three jobs just to survive, to make ends meet. It is only right that as developers receive financial assistance to build affordable housing units, building service workers should receive a prevailing wage.
"Workers deserve a fair wage," Johnson continued.
According to the union and the bill, the prevailing wage is a set of requirements for hourly wages, plus the cost of health and retirement benefits that match the employer-recognized industry norms for building service workers across the city. The bill also extends the existing building service prevailing wage law to new affordable housing developments and preservation projects with 120 units or more.
Kyle Bragg, president of 32BJ SEIU, invoked the memory of the previous president when discussing the success of Intro 1321's passing.
"This is an IMPORTANT victory for working families and their communities across the city [and] the building service workers' union," stated Bragg. "We've proved that New York [can create] more affordable housing while ensuring that workers are paid the wages and benefits they need to be able to afford to live in our city. My brother, former 32BJ President Hector Figueroa, started the push for this bill before his death and I am beyond proud to have led the push to seal the deal and add it to his legacy of support for working people in our city"
But not everyone is behind the bill. In an op-ed for City Limits, Mutual Housing Association of New York Executive Director Ismene Speliotis said Intro 1321 could do more harm than good and cost the city extra dollars in the process. Speliotis also said that the expenses to maintain affordable housing would exceed the income of residents at these locations and add pressure to projects if more subsidies aren't provided.
"Prevailing wage is a specifically defined hourly rate and, upon comparison, it is approximately twice what non-union workers are currently paid," wrote Speliotis. "While this is a well-meaning effort to increase the salaries of and provide benefits to porters, handymen among others, it will add literally billions to the cost of developing deeply affordable housing—money that the Council is not including in the bill."
But Yenni Hernandez, a formerly-homeless building cleaner, sees Intro 1321 as a blessing to her and her child.
"This bill is going to change people's lives and allow them to finally live the American dream," stated Hernandez. "When I was homeless, living in the subway, it was an affordable housing apartment and a good, prevailing wage job that saved my life. I wanted that for every single New Yorker so I came together with other union members to fight for both good jobs and more affordable housing in our city.
"We won and I couldn't be more proud," concluded Hernandez.