Coaches gain inspiration at Armory track & field camp
LOIS ELFMAN | 11/21/2019, 1:21 p.m.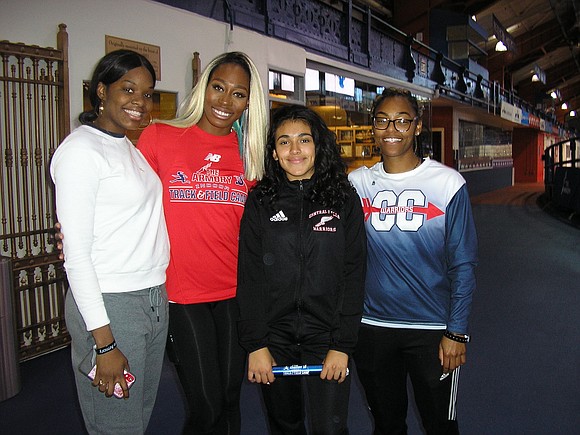 Bassett Thompson, director of track and field at the Armory, surveyed the scene of hundreds of high school athletes learning from top names in the sport and deemed it amazing. "Being with the Olympians is a big deal for them," he said. "When they see a Sydney McLaughlin or an Ajeé Wilson, who they've been watching on TV, up close, it's a big deal."
The day wasn't only meaningful for the young athletes. The coaches present also felt inspired.
"I love the kids. It makes me happy to be able to give what I have," said Amina Smith, a U.S. high jumper who does some coaching at the Armory. "It's a full circle type thing. Whatever questions they have, whatever insight they need, I want to give as much as I can. This is the future. We want track and field to be better and this is how we do it."
Another aspiring Olympian among the coaches was Thomas Johnson, a long and triple jumper who hopes to represent Sierra Leone in next year's Olympics. He understands the aspirations of young athletes, having won New York State titles as a high schooler in White Plains who went on to compete in Division I.
"When I come out here, I know I have an opportunity to inspire and help the young ones realize their potential. If they can leave this camp learning one thing and then implement that during the season, then I've done my job. It's a great feeling," said Johnson.
Sprinter Najee Glass, a New Jersey native and University of Florida graduate, has the goal for 2020 to make the U.S. Olympic team. He loved interacting with the kids. "It's not just about the autographs and pictures, they also have questions," he said. "Giving them that feedback that's going to give them that extra edge feels great to me. They're always so grateful."
"The kids are ready and eager to learn, and it's really great to see this generation wants knowledge and wants to work," said St. John's alumna Priscilla Frederick, a 2016 Olympian in the high jump aiming for 2020. "The sport is in good hands. It's going in the right direction. ... The sport is about working hard and getting to fulfill your dreams.
"I work hard and I have my own goals," she added. "To see that the kids are inspired by that, it means so much more. It gives me that push and motivation. It's been a great day."