Frances Turner talks giving up law for acting
NADINE MATTHEWS | 11/21/2019, 10:43 a.m.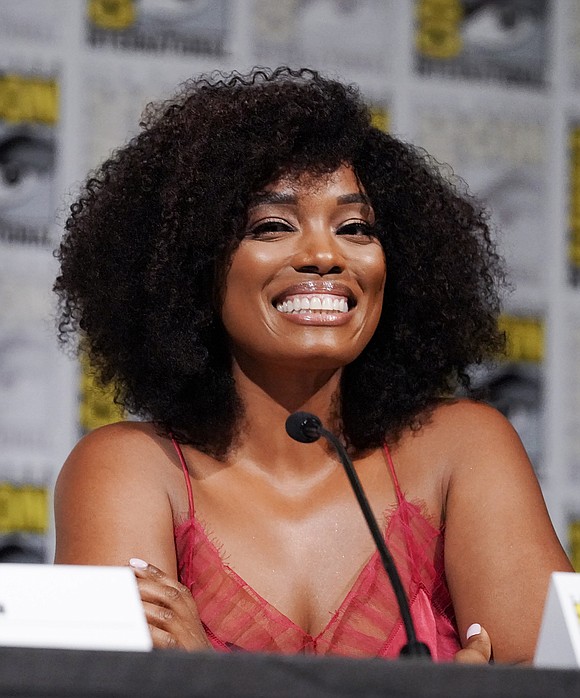 "I have cousins on cousins on cousins!" exclaims Frances Turner. Though she only has three siblings, Turner's mother had 11, resulting in an extended family the size of a small city. Interestingly, Turner credits her family's large size with giving her a non-judgmental spirit. "I don't judge anyone," she states. "I had every type of person imaginable in my family and I love them all. I don't see myself as separate from anyone else, I see us as all connected."
The New Rochelle born and raised actress will star in the upcoming season, premiering Nov. 15, of Amazon's controversial science fiction period drama, "The Man in the High Castle." Based on the novel by Philip K. Dick, the premise is that the Germans and the Japanese won WWII and rule the United States. The show's protagonists are part of the resistance, aware of the existence of film that shows that they may be living in an alternate reality.
Turner describes her character, Bell Mallory: "She's first living in Alabama under the Axis powers after World War II then makes her way to San Francisco." On the show, the Japanese rule San Francisco as part of the Japanese Pacific States. Bell ends up joining forces with Elijah (Cle Bennett)." Turner says, "I love Bell! She is the most three-dimensional character I've played so far and she's as strong as she is vulnerable. She's smart and she's curious. She has love and she is loved. I'm excited because you usually don't see all that in one character."
The Cornell and Georgetown Law graduate gave up a lucrative law career at renowned Cravath Swaine to follow her heart and become an actress. Originally, she thought she would follow in her father's footsteps and do a more technical career. "My grandfather was a Master Builder and my father was one of the earliest Black architects in New York and he did a lot of work in Harlem." However, she had always been as creative outside of school as she was driven in school. "I played every instrument," she laughs. "And spent all day Saturdays at Dance Theater of Harlem taking dance classes!"
Turner points squarely to her parents for laying the foundation for her accomplishments. "My parents made sure we were exposed to images that bolstered our self-esteem as Black people." Her parents also made Turner and her siblings read a ton of books during their summer vacations, and go to plays and museums. "My mother made me very intellectually curious. It also made me believe that if I do the work, I can do anything."
The importance of what her father did for a living wasn't lost on Turner. "My dad was an entrepreneur and he lived and breathed architecture up until the time he passed away." A Howard and Columbia Law school graduate, her father had strong beliefs about the progress of Black people. "I understood what he was doing wasn't common then. He was very specific, in terms of his mission as an architect. He believed that Black people should have beautiful surroundings."
Her work as a lawyer didn't imbue Turner with the same level of enthusiasm. She explains, "When I went to law school, I went with the idea of wanting to be a civil rights attorney." The reality of school loans made that a less appealing option than corporate law, but corporate law was spiritually and physically draining. "It was at times, sleeping under your desk or working, going home to shower and turning right back around to go into the office again." She thought maybe indulging some of her creative side would help her cope.
Turner, who cites Viola Davis and Regina King as two of her favorite actresses, ended up signing up for an acting class with the legendary Susan Batson. "She worked Nicole Kidman, Juliet Binoche, many of the actors on Spike Lee's films. It blew my mind that she was behind all these tremendous actors."
Turner was sure this was what she should be doing, but was terrified at first. "It wasn't always easy in class. You had to slow down and show a lot of private vulnerability in public." But, as Turner says, "I believe we all eventually become who we're supposed to be if we stay present."
She persevered. "One class turned to two, then three classes a week; all while I was still working as a lawyer." After about 18 months, it dawned on her that she had indeed found her passion. The emotion it brought about though, was counterintuitive. "I freaked out. I was so scared. What would people think of me? I was like, everybody was gonna think I'm crazy!" She pushed herself and slowly started going out for small parts, eventually finding the courage to quit her job and become a full-fledged actress.
As for Bell, Turner believes the character will resonate with viewers for a significant reason. "This season, resistance is moving to rebellion. They haven't really explored what happened to Black people when the U.S. lost the war before, so this storyline explores that and I'm really honored to be the actor stepping into Bell's shoes and helping tell that story."