GGG Hyacinth Bourne celebrates 103rd birthday with 4 generations of family members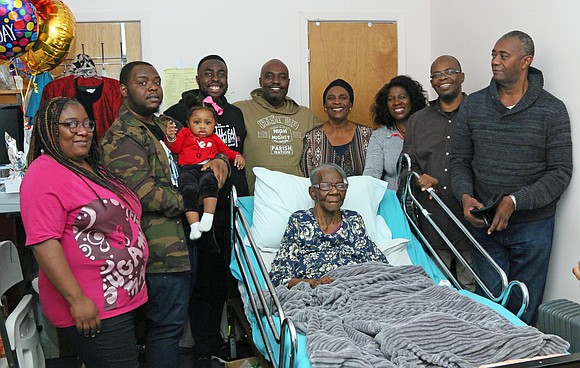 Great-great-great grandbabies laughed happily in the arms of Hyacinth Bourne who celebrated her 103rd birthday on Monday, Nov. 18.
Four generations of this proud Guyanese-American family filled the Bed Stuy home that weekend to enjoy family, every kind of deliciously familiar, back-home dish imaginable, and a huge birthday cake.
Greetings and family came from all over the globe, including many of her eight children, 25 grandchildren, 53 great grands and 21 great-great grands.
Asked about her amazing age Miss Hyacinth told the Amsterdam News, "I am feeling very happy to be with my children, grands and great-great grands."
Details she remembers with amazing accuracy, asked when she came to the U.S., she replies without missing a beat, "The first of May, 1976. I left Guyana that day with rain and I landed in New York with rain."
A biggest moment she remembers when she first came here she said is, "They took me on the Sweet Spirit of America boat––we went to Staten Island. Yes, the ferry. I enjoyed it. That was the first trip they took me."
She revels in having her whole family around her. She loves when the new babies come and she said, "I used to babysit for $25 a week––neighbors' children and my grandchildren."
While she has traveled back to Guyana a few times since her arrival in the '70s, there are times she misses being there.
Aside from the weather, she said, "I miss home sweet home. Christmas we share it nice with neighbors. What we have we share with neighbors and they share with us. Over here––everybody in their house."
She laughed a lot during the Amsterdam News visit, be it about the weather, her favorite food––"Over here food or Guyana food?" she laughed hard. "Fried fish and shine rice." American food––"Macaroni and cheese, potato salad and macaroni salad."
Favorite music––"The nice oldies. I love the oldies. I like 'Bridge Over Troubled Waters.'"
Favorite dance––"I like the waltz. I like the Tennessee waltz."
Asked if she was going clubbing later, she laughed a hearty laugh.
She really was into the idea that she would be going dancing later with Amsterdam News staff; "I'll be her chaperone," declared great grandson Ofori. Ms. Hyacinth was with it.
Meanwhile, the secret to living a long life she said is doing so "in the name of the lord because He giveth life. Obey their parents and love one another to live a long life."
"Mommy is our everything. She is the matriarch of our family," daughter Claudette McCloggan said. The former prenatal care assistant program counselor at the Bedford Stuyvesant Family Health Center, who will be 80-years-young next August, added,"To we her children, the grands, great greats––she is our Wonder Woman, and what she says goes."
Such a delight she is indeed. Happy 103rd birthday Ms. Hyacinth.