PHOTOS: Bronx Zoo lights up for the holidays
Photos by Cyril Josh Barker | 11/22/2019, 1:07 p.m.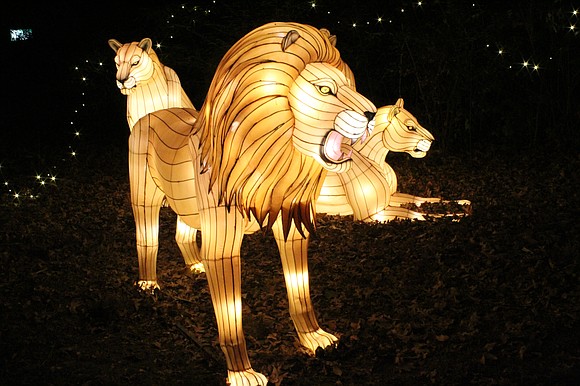 Holiday Lights at the Bronx Zoo are back for the first time in 11 years. Officials flipped the switch at a ceremony on Thursday where guests and VIPs got the chance to check out the display.
Visitors to the zoo this holiday season will be treated to wildlife-themed LED light displays, a custom animal lantern safari, animated light shows set to music on the zoo's historic Astor Court, ice carving demonstrations, holiday train rides and seasonal treats.
"It is exciting to have this great holiday tradition back at the Bronx Zoo and I think people really enjoy the experience of being in the zoo at night," said Jim Breheny, Bronx Zoo Director. "The LED lights allow us to minimize energy use while celebrating the season with beautiful animal-themed light displays that you'd expect to see at the Bronx Zoo."
Tickets for the Bronx Zoo Holiday Lights are priced at $29.95 for adults, $22.95 for children, and $28.95 for seniors. Holiday Lights will be 5 to 9pm Sunday to Thursday, and 5 to 10pm Friday and Saturday November 29 through January 5.
The schedule of event dates, activities and ticketing information are available at bronxzoo.com.