47th annual AUDELCO: Acknowledging Black theater greatness!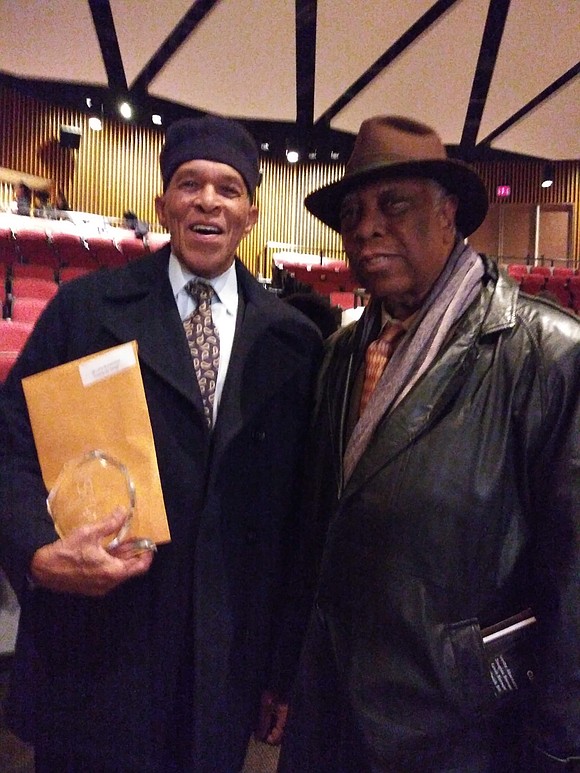 The marvelous 47th annual Vivian Robinson AUDELCO Awards, which recognize and reward excellence in Black theater, were recently held and it was a stupendous event! The atmosphere in the Tribeca Performing Arts Center at 199 Chambers Street was one of love and pride as African Americans acknowledged the excellent gifts and accomplishments in the past theater season by African Americans and AUDELCO honored some of the giants in the theatrical field. What a great evening!
It began with a moving performance by the cast of "Thoughts of a Colored Man," a play that includes spoken word and movement. Then the Awards ceremony was anointed with a feeling of grace and love as evening co-host—actor, director, playwright and ordained minister Jerome Preston Bates—opened with a prayer while everyone stood with their heads bowed. Co-host Rhonda Ross, singer, songwriter and daughter of singer Diana Ross, and Motown founder Berry Gordy then came to the stage and shared, "I'm happy to see you here tonight celebrating ourselves!"
And that is exactly what the entire evening was, a celebration of the superb talent that is among our people. The big winner of the evening was the New Federal Theatre production of "Looking For Leroy," which played at the Castillo Theatre and focused on the life of the late Amiri Baraka, aka Leroy Jones. This in-depth, impressive production won six VIV Awards, tying for best play; outstanding ensemble performance; playwright—Larry Muhammad; director of a play—Petronia Paley; set design—Chris Cumberbatch; and lighting design—Antoinette Tynes. The Public Theatre's production at the Delacorte Theatre, the first with a predominantly Black cast in Central Park of "Much Ado About Nothing," earned five VIV Awards for director of a musical—Kenny Leon; lead actor in a musical—Grantham Coleman; lead actress in a musical—Danielle Brooks; featured actor in a musical—Chuck Cooper; and choreography—Camille A. Brown.
Anyone who had the great fortune to see the Atlantic Theater Company's production of "The Secret Life of Bees" would definitely appreciate the four VIV Awards that it came away with. "The Secret Life of Bees" earned best musical; LaChanze tied for lead actress in a musical; outstanding musical director—Jason Hart; and featured actress in a musical—Eisa Davis. Playwright Lynn Nottage, who adapted the play, beautifully remarked, "Whenever I'm here it always feels like home, like the embrace of a family." The Nuyorican Poet Café's production of "The Haunting of Lin Manuel Miranda" received three VIV Awards for featured actress in a play—Roz Fox; featured actor in a play—Robert Turner; and costume design—Carolyn Adams.
The AUDELCOs were absolutely phenomenal and rewarded so many other incredible productions. "Native Son" from the Acting Company tied for best play. Black Spectrum Theatre's hilarious "Reunion in Bartersville" won best revival of a play. "Caroline, or Change" from the Astoria Performing Arts Center won best revival of a musical. Jessica Frances Dukes won lead actress in a play for her portrayal of Vera Stark in the Signature Theatre Company production of "By the Way, Meet Vera Stark." Keith Randolph Smith, a tremendously talented actor, received the VIV for lead actor in a play for his role in the Rattlestick Company production of "Lockdown." The VIV for solo performance went to Richarda Abrams for her performance in "First by Faith: The Life of Mary McLeod Bethune." David Wright won the VIV for sound design for his work on "The Savage Queen." Justin Ellington tied with Wright also receiving the VIV in sound design for his work on "Fireflies."