47th annual AUDELCO: Acknowledging Black theater greatness!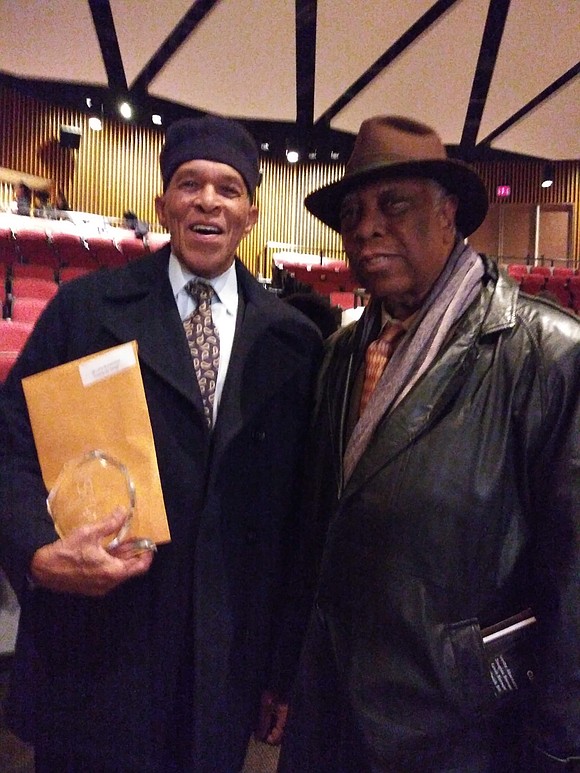 The 47th annual AUDELCO Awards theme was "The Legacy Continues" and it demonstrated just that as it honored the Blacks in our community who are at the pinnacle of what they do. Grace Jones Lifetime Achievement Awards were rightly given to Woodie King Jr., founder of New Federal Theatre, a writer, director and producer, and Barbara Montgomery, actor, writer and director. King is someone who has made and nurtured the careers of so many Black actors, writers, directors and technicians. Montgomery is so accomplished, beloved by TV and stage audiences, respected and admired in the arts. Board of Director Awards were given to the late playwright and poet Ntozake Shange and sound designer, playwright, composer, radio drama producer/director and actor—David D. Wright. To celebrate the power of Shange, original actresses from productions of "For Colored Girls Who Have Considered Suicide When the Rainbow Is Enuf" performed from the piece. Sarita Allen, Carol Maillard, Ruthana Grave McQueen, Elizabeth Van Dyke and Robbie McCauley beautifully spoke the powerful words and moved
the room.
It was a moment of great pride and delight to hear the only lead Black Broadway producers for the past 15 years—Stephen C. Byrd and Alia Jones-Harvey—receive the Special Pioneer Award. This dynamic pair, founders of Front Row Productions, have been responsible for putting Black actors on Broadway in traditional white-actor cast plays including two Tennessee Williams works—"Cat on a Hot Tin Roof" and "A Streetcar Named Desire." They also produced Horton Foote's "A Trip to Bountiful," "Romeo and Juliet," "Eclipsed," "The Iceman Cometh," "American Son," "Paramour" and currently "Ain't Too Proud." Byrd was glad to share, "In Broadway I saw there was a lane that wasn't being addressed. We shed the light on diversity and inclusion." And this team succeeds in doing that all the time.
Now, anyone who has seen any of Kenny Leon's work, not just his AUDELCO winning direction of "Much Ado About Nothing," but his Broadway direction of "American Son" that starred Kerry Washington, or "Children of a Lesser God," or "A Raisin in the Sun," or "The Mountaintop" or "Stickfly," or the collection of August Wilson plays he directed including "Gem of the Ocean," "Radio Golf" and "Fences," will definitely understand and agree with him receiving the AUDELCO Outstanding Achievement Award. Leon, who received the Tony for best direction of a play and best revival of a play for "A Raisin in the Sun," told the excited crowd at the AUDELCOs, "Before I directed 'A Raisin in the Sun,' Woodie King directed me in 'A Raisin in the Sun.' You've just been an inspiration to me all my life." To the audience, full of actors, writers, directors and technicians he said, "Let's keep telling our stories. Keep coming to see my stories and I'm going to keep seeing yours."
Composer/lyricist/playwright/librettist/actress/director Mick Grant was given the Legacy Award. Grant has been part of 18 productions, including her musical "Don't Bother Me, I Can't Cope," "Your Arms Too Short to Box with God," "Working," "Eubie," and so many more productions. She is a Grammy, Drama Desk and Outer Critic Circle Award winner. Daryl Walkers, her cousin, accepted the award on her behalf as Grant recently got out of the hospital. Sharing her words, Walker read, "When I worked with the dynamic Vinnette Carroll at her tiny theater, The Urban Arts Corps down on 19th Street, Vivian Robinson always occupied one seat. She would always return later with other occupiers in tow. 'People need to know what's going on down here,' she said. And the rest is history. My heartfelt thanks to the committee for this singular honor. My gratitude to all involved in preserving the Robinson legacy, which is a treasure. To all involved in helping to tell our stories, including curtain pullers and ushers, I send love." Melba Moore performed to honor Grant and beautifully sang "Still Leaning On Jesus."