5 immigration news headlines you should be paying attention to
11/27/2019, 11:59 a.m.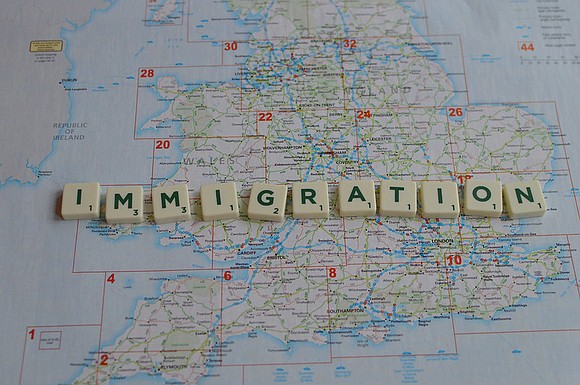 The holidays are upon us and it's supposed to be a season of Thanksgiving, giving and love, but no such Christlike emotions from the Trump administration will trickle down—at least not to immigrants. Here are 5 top immigration news headlines you may have missed recently but should be paying attention to:
1: Chad Wolf's blatant "FU" to the senate
Just when you thought this administration could not flaunt the rules more, they have done it again in blatant "FU" of defiance of Congress and U.S. laws.
The Senate confirmed Chad Wolf as the first undersecretary for policy at the DHS. The administration, instead of putting him to work in the post, used it to have him take the top job as acting DHS secretary, replacing Kevin McAleenan, who took over from Kirstjen Nielsen in an acting capacity in April and submitted his resignation last month. This is the same man who stood by Trump's most immoral and anti-American policies: family separation, the Muslim ban, and the unlawful national emergency declaration, as Rep. Veronica Escobar, D-Texas, pointed out.
Then in a further slap in the face, Wolf then announced that acting U.S. Citizenship and Immigration Services Director and immigration hardliner, Ken Cuccinelli, will serve as his deputy, putting Cuccinelli in a post many advocates and critics feared. Look for more hardline positions now that go straight through the hearts of immigrants. As for USCIS, well Deputy Director Mark Koumans will now serve as acting director. God help us!
2: U.S. to change migration rules in a bid to send asylum seekers elsewhere
A super holiday present won't you agree? According to Reuters, the Trump administration is set to further harden asylum rules as it attempts to stem a wave of migration on its southern border with Mexico.
In a fast-track regulation, the administration has reportedly created a framework that will allow asylum seekers to be sent to other nations that have negotiated bilateral agreements to accept them. The new regulation states that asylum seekers may be sent to any other countries with which the United States has asylum agreements that permit such an action––even if they did not first transit through those nations.
3: The Supreme Court may criminalize immigrant advocacy
So much for freedom of speech, right? According to Slate, the Supreme Court has agreed to take up United States v. Sineneng-Smith this term. It is a case that concerns a little-used provision of immigration law that forbids "encourag[ing] or induc[ing] an alien to … reside in the United States" when the encourager knows that person has no legal status.
Immigration consultant Evelyn Sineneng-Smith told her undocumented clients they could stay in the United States under a program she knew had ended. That was fraud, and the government ultimately convicted her for it. But the government also convicted her on the encouragement provision, which on its face appears to criminalize any pro-immigration speech.
And that has the immigrant rights community worried that the court—with its recent record of unprecedented deference to the president on immigration matters—could greenlight the Trump Justice Department to criminalize routine legal work and political speech. This is one to case to watch as we also await SCOTUS' ruling on DACA.