As Black quarterbacks rise, sports' last bastion of cultural supremacy is falling
JAIME C. HARRIS | 11/27/2019, 12:12 p.m.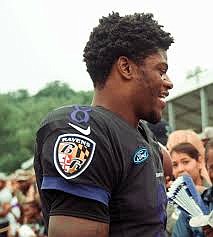 "Not bad for a running back!" These were Lamar Jackson's sarcastic and biting words as he stood before a gathering of reporters at Hard Rock Stadium in Miami Gardens, Florida back on Sept. 8 after the Baltimore Ravens had annihilated the Miami Dolphins by 59-10 in the season opening game for both teams.
The 22-year-old Jackson, who grew up in Pompano Beach Florida, roughly 25 miles from Hard Rock Stadium in South Florida, had an auspicious homecoming. He threw for 324 yards, completing 17 of 20 passes, five touchdowns, and had zero interceptions to end the afternoon with a perfect 158.3 quarterback rating.
Indeed it was a performance that foreshadowed what was to come this season. On Monday night in Los Angeles, Jackson was arguably even more mesmerizing in masterfully commanding a position many naysayers argued he lacked the requisite skills to play after winning the Heisman Trophy at Louisville as only a sophomore in 2016.

He destroyed the Rams defense, first and foremost employing a high football IQ on pre-snap reads to adeptly hit receivers in stride. His accuracy and touch throwing into tight windows was near flawless. And yes, his speed, agility, explosiveness and elusiveness, which had a plethora of ostensibly smart and objective football minds putting forth that Jackson should play wide receiver in the NFL instead of quarterback, were in full bloom.
He made history by becoming the first player to ever throw for five touchdowns in his Monday Night Football debut—Jackson was 15-for-20 for 169 yards—and rushed for 95 yards on eight carries as the 9-2 Ravens tightened their firm hold on first place in the AFC North division by trampling the Rams 45-6.

It was ironic that Michael Vick, the former NFL QB to whom Jackson is often compared, was in attendance at the fabled LA Memorial Coliseum to witness the next leap in the evolution of the quarterback position. Vick's blazing speed and rifle left arm had many longtime football observers believing he would be the man to redefine how the QB position would be operated.
But his self-admitted immaturity, lack of commitment to his craft, and off the field issues derailed Vick's potential greatness. While he did have a solid career, playing a total of 12 seasons from 2001 to 2015 for four teams—Vick missed the 2007 and 2008 seasons due to a stint in prison—compiling 464 passing yards and 6,109 rushing, the most all-time for a QB, Jackson, now in his second season in the NFL, is on a path to far exceed him.

This season he stands slightly above other Black quarterbacks who are toppling the last bastion of cultural supremacy in American team sports. There are still numerous professionals that are paid to objectively assess the game and evaluate players who blindly maintain an inherent bias toward Black quarterbacks who are dual threat players and function with a flair that is more utilitarian than showmanship. But perceptions are difficult to overcome.
There is no logical reason why the Chicago Bears, with extensive time and resources allocated to scouting college players, chose Mitchell Trubisky over Deshaun Watson and Pat Mahomes in the 2017 draft. Mahomes was the league MVP last season with the Kansas Chiefs and Watson, now running the Houston Texans' offense, one of the all-time great college QBs at Clemson, is an MVP candidate this season. Meanwhile, Trubisky's future with the Bears is dubious as he has struggled to effectively play QB at the NFL level.
As the league enters Week 12, Jackson and the Seattle Seahawks' remarkable QB Russell Wilson are the leaders in the MVP race this season. The 30-year-old Wilson has already taken the Seahawks to two Super Bowls, winning one, in his eight years as the team's starter.

It's a new era in which the QB position in the NFL is dramatically changing and has become much more colorful.