Hoyas head coach and Knick legend Patrick Ewing returns to MSG
VINCENT DAVIS | 11/27/2019, 12:11 p.m.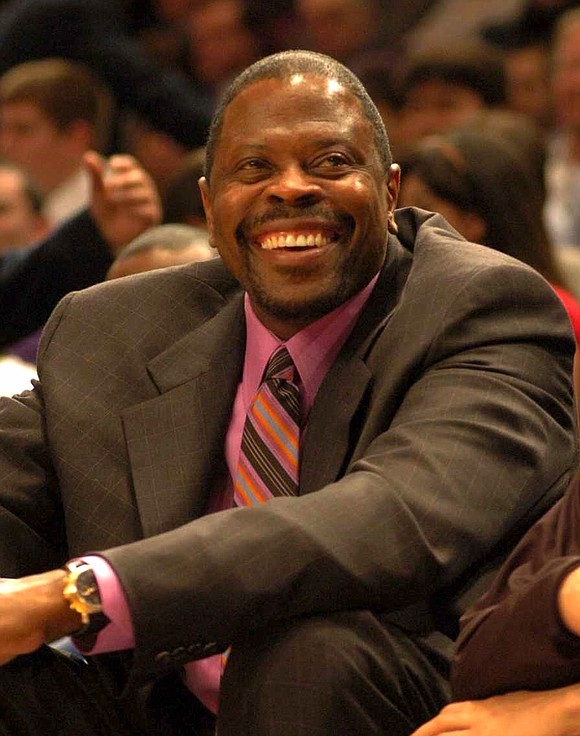 The annual 2K Classic benefiting the Wounded Warrior Project returns to Madison Square Garden tonight and tomorrow (Nov. 28 and 29). It marks the return of former New York Knicks center Patrick Ewing, now the head coach of the Georgetown Hoyas. 
Ewing's Hoyas played Texas in the first game followed by Duke versus California. The consolation game was scheduled for Friday followed by the tournaments' championship. 
Georgetown signed Ewing, the most decorated player in their
history, to head his college team in April of 2017. Ewing had been an NBA assistant coach for 15 years before getting his first head coaching position there. During those 15 years, Ewing had assisted the Washington Wizards, the Houston Rockets and the Orlando Magic. He earned an associate head coaching title with the Charlotte Hornets before taking over the Hoyas, a prominent NCAA Division 1 university with a rich basketball history that Ewing helped construct as a player. 
With head coach John Thompson and Ewing on their roster, the Hoyas won the national championship in 1984 and were runners-up in 1982 and in 1985. The Hoyas also won three Big East championship titles.
As a dominant college player, Ewing was a three-time First Team All-American in 1983, 1984 and in 1985. He was named Most Outstanding Player of the 1984 NCAA Championship. He's Georgetown's all-time leader in total rebounds, blocked shots and games played. He's second in scoring (2184) by a mere 120 points behind Eric "Sleepy" Floyd (2304).
As an NBA player, Ewing was the first overall pick of the 1985 NBA Draft, chosen by the New York Knicks. Ewing's talents earned him  Rookie of the Year honors in 1986 after averaging 20.0 points and 9.0 rebounds per game. He spent 15 years with the Knicks making 10 consecutive NBA All-Star appearances. He's the Knicks' all-time leader in points, rebounds, blocked shots, steals and field goals made and is a member of the NBA's 50th Anniversary All-Star Team and has been elected to the Naismith Memorial Hall Of Fame.
Ewing began turning the Georgetown Hoyas' academic athletic franchise around in his first year finishing with a 15-and-15 record, 5-and-13 in the Big East, no post season tournaments.
During his second season, 2018-2019, his team finished 19-and-12, 9-and-9 in the Big East, a four-way tie for third place in the conference, the Hoyas highest finish since 2015.
During the season, Georgetown scored a signature win against Villanova, the defending national champions. They were also selected to play in the 2019 NIT, their first postseason appearance also since 2015. 
Georgetown entered the Garden's 2K tournament with a 3-and-1 record. Ewing's team has been led in scoring this season by Omer Yurtseven, a 7-foot, 264 pound center, a transfer senior from Istanbul, Turkey. He's averaged 17 points and 12.5 rebounds per game. Also contributing on Ewing's roster are guards Mac McClung and James Akinjo, both averaging 12.3 points per game. Akinjo with 4.5 assists.
McClung dropped 19 against Texas to help the Hoyas advance to the championship 82-66. Yurtseven's 21 and Akinjo's 19 with 6 assists kept the Hoyas in the game, but it wasn't enough to overtake Duke who won the tourney 81-73.
Impressed with his team's showing on one of the biggest stages in basketball, his home court for many years, Ewing stated, "I think at the end of the year, there's going to be a lot of teams afraid to play us."