With injuries to Irving and LeVert, Nets are thankful for Dinwiddie
VINCENT DAVIS | 11/27/2019, 12:23 p.m.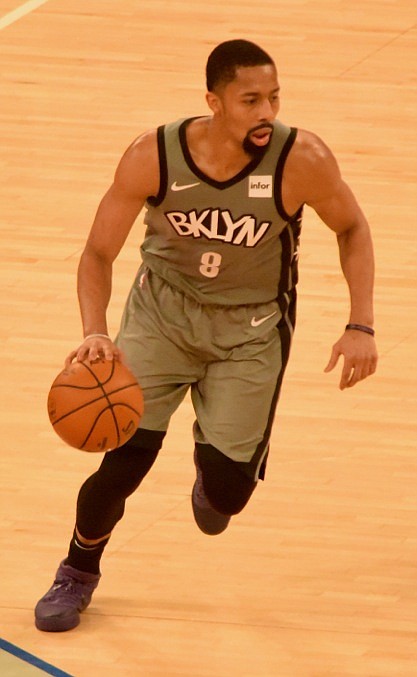 As we approach the second quarter of the Brooklyn Nets season, looking back to the start, the one constant for them has been their 6-foot-5 point guard Spencer Dinwiddie.
Off the bench or in the starting lineup, Dinwiddie, 26, has been averaging over 19.5 points and 5 assists per game. He hasn't missed one this season. Dinwiddie has started since Kyrie Irving, signed by Brooklyn during the off season, was sidelined because of a shoulder injury about two weeks ago. Also out is guard Caris LeVert, nursing ligament damage to his right thumb.
Dinwiddie stepped into the starting lineup on the last day of Brooklyn's first extensive road trip, a game against the Chicago Bulls about two weeks ago, their fifth in nine days. Dinwiddie dropped 24 points and added 4 assists in 30 minutes of play, 20 of those points in the fourth quarter.
With the Nets down 78-74 at the start of the fourth quarter, Dinwiddie's dunk with 8:01 remaining in the game put Brooklyn ahead for good.
"He took over," said Nets' head coach Kenny Atkinson, relieved to end the team's three game losing streak.

Dinwiddie, drafted by the Detroit Pistons in 2014 from the University of Colorado, the 38th overall pick in the second round, joined the Nets in December of 2016. Last season Dinwiddie averaged 16.8 points per game, 12.6 the season before.
Except for one game, Dinwiddie has led Brooklyn in scoring since he's been inserted into the lineup—28 points, 8 assists, 5 rebounds against the Indianapolis Pacers; 20 points, 8 assists against the Charlotte Hornets, just two shy of leading scorer Jarrett Allen; 23 points, 7 assists against the Sacramento Kings; 30 points, 4 assists, 4 rebounds against the New York Knicks; and 23 points, 9 assists against the Cleveland Cavaliers.
With the game tied 106 all, Dinwiddie, voted the Eastern Conference Player of the Week, hit the game-winning shot from the top of the key, off the dribble from a Joe Harris in-bounds pass. It left 1.6 seconds on the clock for the Cavs, who couldn't capitalize. The Nets get their fourth consecutive win, 108-106, their largest win streak of the season
"A great individual play by him," said Atkinson about Dinwiddie finding an opening within the Cavs' swarming defense to close out the game. It put Brooklyn's record over 500 at the start of the week as they prepare for home games versus the Boston Celtics tomorrow (Friday) and the Miami Heat on Sunday before hitting the road again next week to Atlanta and Charlotte.