President Bloomberg? Former mayor makes his case to American people
HERB BOYD and STEPHON JOHNSON | 11/27/2019, 10:04 a.m.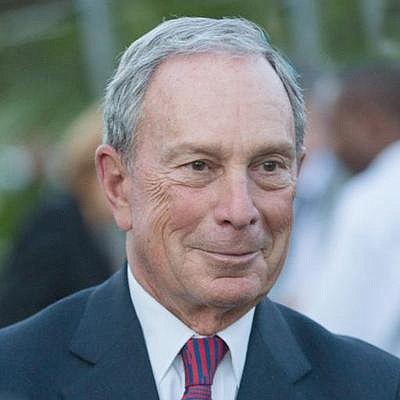 Announcing his presidential bid this week, Michael Bloomberg summoned every good thing he ever did, from his days as a boy scout, to affordable housing, to banning cigarettes in restaurants when he
was mayor.
In a little over a ninety second ad, you see Bloomberg riding a tricycle, standing in the aftermath of the 9/11 attack, marching in a parade down Fifth Avenue, and other significant moments during his 12 years in office.
About as close as he gets to the heavy political baggage of stop-and-frisk in which some 5 million citizens, mostly young Black and Latino men and boys, were stopped during his tenure as mayor, were his remarks about reducing gun violence and about "righting wrongs that have fallen heaviest on the most vulnerable communities. I know government can improve people's lives—because when I ran New York City, that's exactly what we did."
Of course he addressed this issue with an apology at the Christian Cultural Center before a packed congregation that was received with tepid applause. Now that he is officially in the race he is sure to have that mistake thrown back at him by the other candidates. And expect Sen. Elizabeth Warren to have the perfect foil for her plan to tax the rich.
Senators Cory Booker and Kamala Harris, if Bloomberg makes it to the debate stage next month, will take him to task on how his focus to make things better only made them worse for certain members of the community.
Already Sen. Bernie Sanders has commented on Bloomberg's vast wealth, reportedly more than $50 billion with millions in his war chest, declaring that Bloomberg "cannot buy this election." That was even more true years ago when Nelson Rockefeller failed to purchase the presidency.
"I'm running for president to defeat Donald Trump and rebuild America," Bloomberg said, in what may be the slogan of his campaign. "We cannot afford four more years of President Trump's reckless and unethical actions. He represents an existential threat to our country and our values. If he wins another term in office, we may never recover from the damage. The stakes could not be higher. We must win this election. And we must begin rebuilding America."
One could point to Bloomberg's wealth as a positive since he wouldn't be beholden to special interests. But that same wealth means he's not beholden to anyone so he can do what he wants. Another road block for the former mayor of New York City is getting America to vote for a Jewish billionaire who owns his own media company. With the resurrection of public displays of anti-Semitism under the Trump regime, Bloomberg might have a hard time convincing America to chose him over a man who purports to hate the same people they hate.
But according to anti-police brutality activist Josmar Trujillo, Trump and Bloomberg are the same person.
"Given that President Donald Trump has repeatedly touted stop-and-frisk, Bloomberg's signature policing policy, there appears to be little discernible differences between the two on the crucial issues of race and law enforcement," said Trujillo. "Both men are arrogant businessmen who think that their wealth makes them qualified to be president. Bloomberg's legacy as mayor of NYC, however, offers something that in some ways is worse than Trump: a man who steamrolled millions of people's lives for 12 long years as he turned New York City into a corporatized police state."