President Bloomberg? Former mayor makes his case to American people
HERB BOYD and STEPHON JOHNSON | 11/27/2019, 10:04 a.m.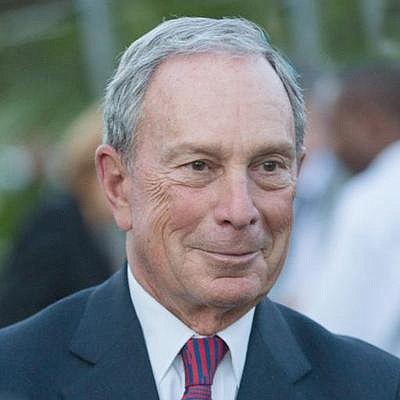 Former Vice President and current Democratic presidential candidate Joe Biden seemed to be the front runner for the nomination, but has recently fallen in some polls. A recent piece in the New York Times notices that Biden has fallen a bit in the Iowa polls while South Bend, Indiana Mayor Pete Buttigieg has taken the lead. However, according to a recent Morning Consult poll, Biden has a nine-point lead on Sanders nationally 32% to 20% while Warren fell back a bit at 17%.
With all of the uncertainty surrounding the Democratic primaries, Bloomberg might smell blood in the water of the Democratic party: a party divided by the agendas of different groups and elected officials. It's one of the drawbacks to having a diverse group of people under one umbrella. Different desires, wants and agendas.
But Jose Lopez, spokesperson for Communities United for Police Reform Action Fund, said Bloomberg or Trump wouldn't be a great for Black and Brown Americans.
"Bloomberg consistently supported the goals of NYC's racist police unions through his obstruction of democratic processes, litigation to appeal police accountability measures, and his threats to personally finance campaigns to unseat elected officials who supported police accountability," said Lopez. "Instead of investing city resources in community infrastructure that would have made New York's communities of color safer, he championed neoliberal policies that disinvested from community infrastructure like affordable housing, leading to a trend of hyper-gentrification, displacement and increased policing of low-income New Yorkers of color."
Bloomberg's political leanings are considered centrist at best. In an era where liberals have gone more to the left and have openly advocated for socialism, Bloomberg's presence could upset the more extreme left wing of the party. But outside of social media, all people want is someone with the best chance of beating Trump. Bloomberg's worth is close to $54 billion. He has the wealth to fund lots of anti-Trump commercials and dominate television ad sorts. But other Dems could use his police, racial and social inequality record against him.
"I've worked very hard to make sure that we tackled discrimination wherever I saw it," said Bloomberg while taking questions post-speech in Virginia. "New York City has a record that's not perfect, but I think we should be proud of it in terms of making it a city that's open to everyone."
But according to VOCAL-NY Co-Director Jeremy Saunders, Bloomberg's record on race issues leave a lot to be desired.
"Bloomberg drove income inequality, gentrification and homelessness in New York City. He made our city the global leader in low-level marijuana arrests—with massive racial disparities despite white New Yorkers using marijuana at similar rates—as stop-and-frisk made many New Yorkers feel they lived in an apartheid city," said Saunders. "Then he used his wealth and power to buy himself a third term in office.
"I would hope these are not the qualities most Americans are looking for in a presidential candidate," concluded Saunders.