Turkey Time: Recipes and tips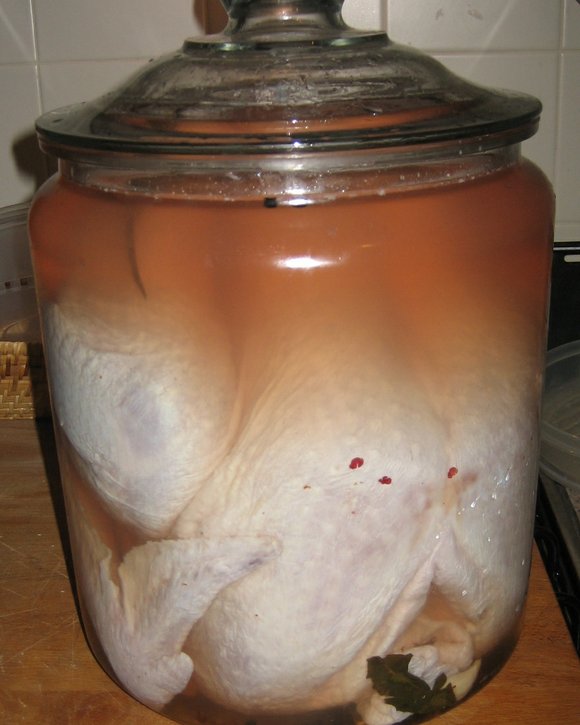 No time or words to waste. Here is my annual turkey recipe for Donna, Ms. Peoples and the diehard Thanksgiving warriors!
GOTTA BRINE
18- to 20-pound bird, giblets removed
7 quarts (28 cups) water
1 1/2 cups coarse salt
6 bay leaves
3 tablespoons whole black peppercorns
1 teaspoon black or brown mustard seeds
1 bottle dry white wine
2 medium onions, thinly sliced
6 garlic cloves, crushed
1 bunch fresh thyme
1 bunch fresh rosemary
You can adjust the quantities (and cooking times) for your size of bird. Just take care that it is submerged in the brine and refrigerated for 24 hours.
At least two hours before seasoning and cooking, remove the bird from the brine and pat it dry inside and out with paper towels. Fold the wing tips under the turkey and place it breast side up on a rack set in a roasting pan and let stand.
BUTTER AND WINE MIX
Kosher salt
Fresh ground black pepper
3 sticks unsalted butter, plus 4 tablespoons softened
1 bottle dry white wine
Place rack on lowest level in oven. Preheat oven to 450 degrees.
Combine sticks of butter and wine in a saucepan and warm until melted. Fold a large piece of cheesecloth into quarters (four layers, 18-inches square) and immerse in the mixture. Let it soak.
Liberally season cavity with kosher salt and freshly ground pepper. (NOTE: An unstuffed turkey decreases cooking time.) Tie its legs together loosely with kitchen string. Fold the neck flap under and secure it with toothpicks. Rub the turkey with softened butter and liberally season with salt and pepper.
Spread the soaked cheesecloth evenly over the breast, about halfway down the sides of the turkey. Place the turkey legs first in the oven. Cook for 30 minutes. Using a pastry brush, baste the cheesecloth and exposed parts of the turkey with the butter and wine mixture. Reduce oven temperature to 350 degrees and continue to cook for two and a half more hours, basting every 30 minutes and watching the pan juices. If the pan gets too full, spoon out some juice, reserving it for gravy.
After the third hour of cooking, carefully remove and discard the cheesecloth. Turn the roasting pan so the breast is facing the back of the oven. Baste the turkey with pan juices. If there is not enough juice, continue to use butter and wine. Baste fragile skin carefully! Cook one hour, basting after 30 minutes.
After the fourth hour, insert an instant-read thermometer into the thickest part of the thigh without poking any bones. The temperature should reach 180 degrees and the turkey should be golden brown. The breast does not need to be checked for temperature. If the legs are not yet fully cooked, baste the turkey, return it to the oven and cook for another 20 to 30 minutes.
Transfer the turkey to a platter, reserving the pan juices. Let the turkey stand 30 minutes before carving.
TO MAKE: What is Thanksgiving without stuffing? I caught wind of a recipe that I must try this year that uses dried figs. There is something lovely to me about figs in all forms--fresh or dried, paste or chutney. It is a tempered sweetness that enhances everything, even your basic stuffing.