'Abominable' is a ton of family fun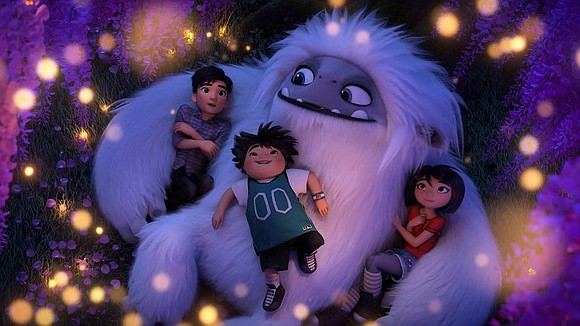 I say yes, yes, yes to meeting and befriending this particular Yeti.
"Abominable" is an animated and charming story that is set in contemporary China (voiced in English). This is a co-production (Chinese
and American).
Why "abominable"? The name has its roots in the Chinese legend that a very furry, white "ape-like" being lives in the mountains of China. The story centers on a teenage girl, Yi (Chloe Bennet), living the city life (maybe Shanghai or Hong Kong) who finds a very scared Yeti—an abominable snowman—hiding on the roof of her apartment building. She enlists the aid of two male friends and they quickly realize he's young, a kid just like them, but with magical powers. They name their new buddy Everest and begin their 2,000-mile journey to help him find his lost family in
the Himalayas.
Yi has magical powers too, but she doesn't realize it at first. A talented violinist, the same instrument her father played before he died, she plays to help calm Everest who is far from being a beast.
At its core "Abominable" is a love story about a group of enlightened teens who decide to protect their new friend from corporate bad guys who have found the innocent creature and are determined to exploit him.
The story gets a bit wonky, but the film is beautiful to look at with vivid colors of the rural countryside. In many ways the fight to protect Everest is to protect nature and all her mysterious and wonderful mysteries.
"Abominable" was written and directed by Jill Culton with Todd Wilderman as co-director.