Chancellor Carranza talks about plans for NYC public schools
NJERI MCPHERSON | 10/3/2019, 4:55 p.m.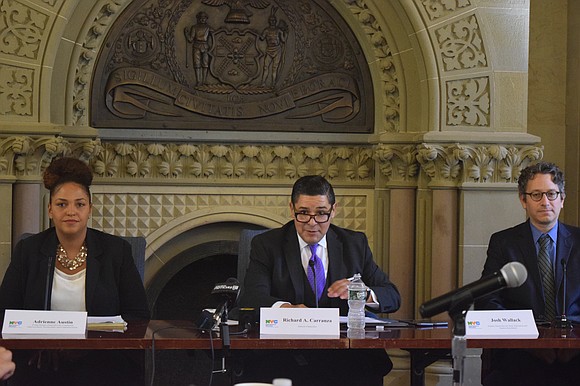 This past Friday, Sept. 27, New York City Department of Education Chancellor Richard A. Carranza held a press meeting to go over attained progress, current concerns, and future plans for NYC public schools.
With the school year in full swing, questions have arisen about the shifts and changes of NYC public schools. Being the largest school system in the nation, educating 1.1 million children and holding over 1,800 schools, NYC Public schools are also some of the most diverse.
"Eighty-two percent of students are Black, Latino or Asian," says Chancellor Carranza. "It then makes sense why culturally responsive and sustaining curriculum should be a part of how we teach students the standards."
The white-washing of school curriculum is a common concern for people of color. With general coverage of slavery and the Civil Rights Movement, in-depth coverage of Black, Latinx and Asian history and literature is greatly lacking in school curiculums today. But, with such a diverse student makeup, incorporating material that represents the student body is of high importance. According to the chancellor, the state determines what students should learn in what is called "state standards." However, how teachers go about teaching those standards is more flexible.
"It's critically important that what students read, who they read about, the experiences, the historical events, the celebrations are reflective of who our students are," says Carranza.
While better representation in the curriculum is a high priority, it is not the only aspect of NYC schools that seems to lack proper diversity. New York City has a handful of specialized schools that require students to take a test in order to be admitted. The percentage of minority students currently enrolled in these specialized schools directly conflicts with the total amount of minority students in NYC.
"There are people in this city that have tried to make this issue about race. This is not about race. This is about educational opportunity for all children," stresses the chancellor, "when people try to make this about race, it's about a political agenda, not about an educational agenda."
Still, it can be difficult to keep race out the conversation of admission and specialized schools. While 68% of NYC public school students are Black and Latino, they only make up 9% of specialized schools; these racial statistics are hard to ignore. But, Chancellor Carranza does feel that the demographics of specialized schools should match that of the whole system.
"Eighty-two percent of our students are Black, Latino and Asian, so it would stand to reason that if you have a fair and equitable process of admitting students to a specialized program of study that you should have a similar percentage of students represented in who gets into to those schools," says the chancellor. "The process for going to a specialized school, the process for going to any school, should be as open, as fair as it can be for all of our students. I am not backing down from my belief that a single test is not the most enlightened way to identify students for that opportunity."