'Motherless Brooklyn' closes NYFF, Oct. 9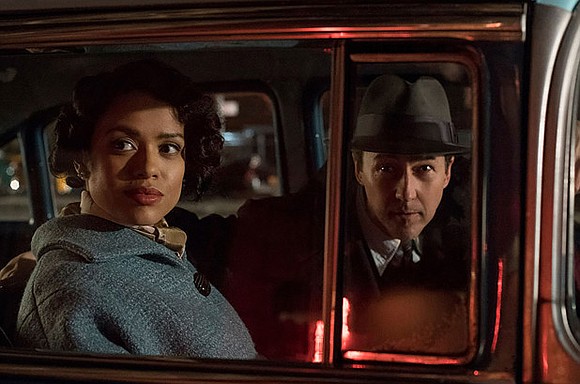 In the press release for the new Warner Bros film "Motherless Brooklyn" written and directed by Edward Norton and based on the Jonathan Lethem novel about a New York detective with Tourette syndrome, the highlight is that the film is financed by African American billionaire Robert F. Smith. The very same Robert F. Smith, CEO, and founder of private equity firm Vista Equity Partners, who is not only paying off the student debt of the entire graduating class of 2019 of Morehouse College but their parents' loans, too. Smith's gift totaled $34 million, Morehouse said in a press release Sept. 20.
Now, to his creative investment: the new film "Motherless Brooklyn" directed by Edward Norton and which also stars Norton himself, alongside Bruce Willis, Alec Baldwin and Gugu Mbatha-Raw. I would not be surprised if the adaption gets an Oscar nomination (Best Adapted Screenplay) for Norton. According to press materials, the source novel's 1990s setting is re-imagined into a 1957-set film noir and packed with excellent performances by excellent actors and is stylishly made.
At the story's core is power and at the seat of power (always) is politics. The film stands at nearly two-and-a-half hours, far too long. 
Norton reimagines power in New York City. It's an old story that's a new story and a painful one. It's about gentrification. How New York authorities forced the city to transform into some unfortunate and unfair ways in the 1950s. It shows how the government hates Black, Brown and poor people. It also shows the hopelessness in law.
The film is original and wonderfully quirky just like Norton himself. The opening is gripping. Here we meet the low-level private detective Lionel Essrog (Norton) with Tourette syndrome. A usual choice as a leading man but it works because, well it's Edward Norton. He and his partner are following their boss Frank Minna (Bruce Willis) who is later murdered for very unclear reasons, leaving his detective business and his unsolved murder to Tony Vermonte (Bobby Cannavale), Gil (Ethan Suplee) and Danny (Dallas Roberts), to follow up.
Lionel's condition makes it a challenge to connect with people. But he's the only member of the team that cares to solve Franks' murder, so connected he even wears his old hat. Then the story begins to be hard to follow. In his investigation, he finds himself at a Harlem jazz club, The King Rooster, which is owned by Laura Rose's father (Gugu Mbatha-Raw). Laura, a lawyer, is  "that girl" who is unafraid to fight for her community. Inside the club, the music sizzles thanks to a gifted trumpeter played by Michael Kenneth Williams (with music played by Wynton Marsalis). 
Then—again—the actual storyline becomes fuzzy with scene after scene giving us information about the city in the '50s and Harlem, in particular, but it does very little in moving the story forward.
Laura Rose is fighting the city along with political activist Gabby Horowitz (Cherry Jones) with a bright spotlight on the corrupt campaign of New York's city planning head Moses Randolph (Alec Baldwin) to demolish "the slums"—actually creating the situations to get entire blocks declared uninhabitable and then rebuilding the area for the 1%.
There is so much "fat" in the movie with many characters coming in and out that doesn't seem to serve the story. To wit beginning with Lionel's colleagues, as they don't add anything vital to the story serving more as atmospheric set dressing. 
What's happening? We don't know. It's a mystery so it's fair we stay in the dark but here we are a little too in the dark if you catch my drift. This film is packed with gifted actors and wonderful craftspeople like cinematographer Dick Pope, costume designer Amy Roth but all in all—it evokes its title "motherless."
Reviewed at New York Film Festival. 144 minutes. 
"Motherless Brooklyn" produced by Class 5 Films, MWM Edward Norton, based on the novel by Jonathan Lethem. Distributed by Warner Bros. Directed by Edward Norton. Screenplay by Edward Norton. Starring Edward Norton, Gugu Mbatha-Raw, Alec Baldwin, Bruce Willis, Cherry Jones, Bobby Canavale, Dallas Roberts, Josh Pais, Radu Spingel, Fisher Stevens, Peter Lewis, Robert Ray Wisdom, Michael Kenneth Williams.