Reel Sisters Film Fest kicks off Oct. 5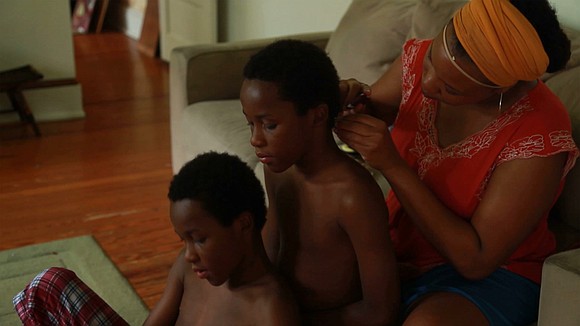 The Reel Sisters of the Diaspora Film Festival & Lecture Series—the first Academy Qualifying Film Festival devoted to women filmmakers—will present an exciting lineup of films dedicated to self-care, wellness and healing. Starting with an official Harlem kick-off Saturday, Oct. 5 at Dwyer Cultural Center, Reel Sisters will host a six-week event series throughout New York City. For schedule and tickets, visit reelsisters.org or
call 212-865-2982.
The theme for this year's festival is #IGotYourBack: A Time for Holding Space & Healing, which showcases films dedicated to looking out for one another made for and by women with over 40 films being screened during the season. 
On Friday, Oct. 11, 6 p.m. at the SVA Theater, Reel Sisters will honor award-winning performance artist, author and cultural activist Camille Yarbrough with our distinguished Reel Sisters Hattie McDaniel Award for her outstanding contribution to film, television, books and performing arts spanning six decades. 
Reel Sisters will celebrate the evening with a screening and talkback on "Toni Morrison: Pieces I Am" to pay tribute to Morrison's legacy to artists and writers. Award-winning producer/actress Andrea Lewis ("Degrassi: The Next Generation"), Reel Sisters 2019 curator, will serve as our esteemed mistress of ceremonies for an exciting evening of fun, film and networking! Special guests and honorees TBA. 
On Oct. 19 and 20, the 22nd anniversary of Reel Sisters kicks off at the Alamo Drafthouse. Film screenings will be held from 1 p.m.-6 p.m. A special feature presentation will be held at LIU's Kumble Theater, located across the street from the Alamo on Flatbush Ave. between DeKalb Ave. and Willoughby St., at 7 p.m. 
This diverse slate of films, hand-picked by our festival curator, Andrea Lewis, deals with topics ranging from love to coming of age. Additional films TBA.
Screening @Dwyer Cultural Center, 258 St. Nicholas Ave., Harlem: Saturday, Oct. 5, 2019, Time: TBA.
"Love Escapes Us" 
Director: Craig Tovey; Writer: Iman N. Milner; Narrative Short.
"Love Escapes Us" is the compelling tale of the cycle of love and heartbreak as told through the experiences of two people who fall in love during the wrong season.
 "Love Story"
Director: Kwanza Nicole Gooden Narrative Short.
A vignette of an intimate bond.
"Perception" 
Director: KarynRose Bruyning; Writers: KarynRose Bruyning, Ebony Blanding; Narrative Short.
"Perception" is made up of four vignettes of people showing the difference between what they see and what is true, proving that in life and love, perception is everything!
"Seventh Grade"
Director/Writer: Stefani Saintonge
Narrative Short.
Everyone is growing up except Patrice. But when a raunchy rumor threatens her best friend's reputation, she's forced to join the party and embrace adolescence.
Screening @Alamo Drafthouse, 445 Albee Square, Floor 4: Saturday, Oct. 19, at 2 p.m.
"And Nothing Happened"
Director/Writer/Producer: Naima Ramos Chapman
Narrative Short.
In the aftermath of an assault, a woman tries to come to terms with the violation, or just get through her day.  
"Ballet After Dark"
Director/Writer: B.Monét;
Documentary Short."Ballet After Dark" tells the story of a young woman who found the strength to survive after an attack. She created an organization that is helping sexual abuse and domestic violent survivors find healing after trauma through dance therapy.
Reel Sisters Film Festival offers affordable ticket prices. A one-day pass is $20 (Save: $30) and a section pass is $12. Awards ceremony tickets are $35 ($30 for 2+ tickets). Students, seniors and group discounts are available. Purchase tickets at the website www.reelsisters.org. 
Founded in 1997 by African Voices magazine and LIU Brooklyn Campus, Reel Sisters is among the first film festivals dedicated to supporting women of color filmmakers.